Over the last few months I have been writing a blog series on Route to Market Success (RtM) in emerging markets, describing how Enchange has been using the 20 Steps to RtM Excellence to win in these markets for our clients.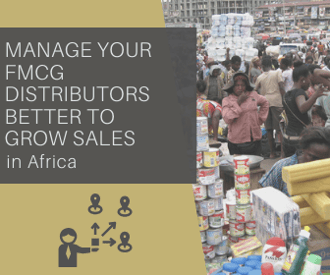 In my last post, we looked at how a global vs local approach to Route to Market (RtM) can affect the development of RtM strategies and execution plans for emerging markets - in Africa and South East Asia, for example. We looked at the need to understand and remind ourselves of a few basic principles about the marketplace. You can look at that blog here.
So, with this and other lessons in mind, we will now turn our attention to some of the key questions we need to ask in order to better manage and help our FMCG Distributors in Africa so we can grow sales:
As a potential global FMCG supplier, we may have clear guidelines on how to operate with and manage distributors, but have we really looked at adapting this to the environment in each of our markets?
Are our distributors exclusive to us? If not, do they distribute other competing or non-competing products? If all suppliers are competing for the same finite cash amount, how do we look to compete in this environment?
Do we operate in a cash or a credit market? The answer here is critical to how we manage the whole trade including distributors. How do our distributors pay us? If we offer credit to our distributors, how is this managed and controlled? Do we have bad debts? What are we doing about this?
Do we really understand the distributors' current issues? If not, what is our plan to address this shortfall? Do we need a 3rd Party to provide an independent expert view to help?
Are we very clear about the capabilities of our distributors? Have we demanded a level of performance that they cannot deliver? What development or support will they need to meet our requirements?
Assuming that we have already assessed the performance of the distributors, do we have a Key Account Management and a Partnership Approach to our distributors? Do we have formal agreements with them? Is this mutually agreed or imposed on them? How do we monitor compliance to and success of this approach?
How does the competition manage their distributors? Have we considered this in our RtM strategy?
Have we thought about how we can help our distributors to achieve our joint goals, rather than getting our distributors to achieve ours?
How do we reward the distributors? Do they take a margin on what we sell them? Do we have an annual or other agreement that rewards them for volume either bought in or sold out? Are these rewards working? Do we have the right mix of front and back margin?
Do we have a standard range of brands/SKU's across all distributors? Do we have any specific pack formats for any channel or distributor? Have we thought about the characteristics of the distributors in this regard?
Have we looked at the Points of Sale (POS) that the distributors supply? Do we have a national map of these POS? How often is this national map or trade census updated? Have we considered the retailer issues and constraints? Have we looked at their resources or lack of? Are we aware of their pressures for space, cash, time, etc?
Do we have specific territories or zones for our distributors? Are these working?
How often do we put boots on the ground and visit the distributors? How often do we visit the customers of our distributors? How do we record and capture any necessary feedback or changes from these interactions?
Do we run promotions with our distributors? How do we manage or record these promotions? How do we inform them about these promotions? How do we know who has and has not been informed?
Have we considered the geographical environment that the distributors operate in and the constraints that this throws up?
How much can or could the POS owners afford to buy? How much could they carry in stock? How does this feed into the route planning that our distributors have in place? Is this enough for stock replenishment?
Do we have any idea of retail POS Out of Stock (OOS)? How do we measure this? It is possible to measure it? What can or would we do with this information?
Have we considered the technological capability of our distributors, sub distributors, wholesalers, cash and carry's and even retail POS? Is there a way we can help out in this regard?
What is their order capture method? How does this link to our order capture method? Have we as suppliers thought about how we fit in here or how we can help?
Nowhere else in the world moves more money on mobile phones than Sub-Saharan Africa, and with the 2018 transaction value estimate of at least $26.8 billion, have we looked at how we can capitalise on this? On the use of mobile phones for order capture, data gathering, display measurement, etc?
Do any of our distributors have influential connections in their network that require a bespoke approach to the relationship? If so, how can this be reasonably managed?
I hope you find this useful, as always views and comments are welcome. If you would like to know more about our approach to Route to Market excellence click here. If you need more specific assistance, please reach out to me directly.
Please subscribe to the blog on this page, to ensure you don't miss the latest updates on RtM excellence in execution.