What are Trade Incentive Programmes (TIPs)? TIPs are the mechanisms that you put in place to incentivise and encourage your trade partners (e.g. retail, distributor, cash & carry, wholesale, Horeca) to engage with and deliver on your Trade Marketing & Distribution (TM&D) and/or Route to Market (RtM) objectives.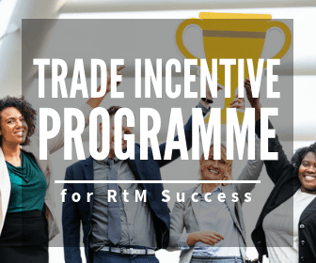 TIPs can include what may traditionally be associated with key account agreements, like sales volume discounts, or sales volume rebates. But they should also encompass so much more.
Whilst sales volume may be one of the most important KPIs, incentivising on it alone, or being too reliant upon it, may be counterproductive in the long term. For example, we may encourage certain customers to forward buy, thus bringing sales from next month or next period into this one, and therefore costing us more now, in terms of higher incentives, poor productivity and increased overall supply chain costs.
But focusing our TIPs on the individual trade marketing objectives (the building blocks of sales volume), can really help us to engage with and become partners of the FMCG trade, both with the owners, and in many cases more importantly, their staff.
A well thought out TIP can start to create real trade partnership with our company, encouraging and motivating those who want to work with us for mutual success, rather than customers who simply expect a discount.
Welcome to my blog series on the 20 Steps to Route to Market Excellence model. Over the past number of months, we have gone through the first 12 steps of my model. The focus of this post is Step 13 'Trade Incentive Programme (TIPs)'.
Here are some examples of questions you can ask under Step 13 'Trade Incentive Programme (TIPs)':
Based on the RtM Review in Step 1, what are the current TIPs we have in place? What have their results been?
To what extent does our TIP accurately reflect and support our channel strategy?
Who are the current TIPs focused on? Who within the trade are they incentivising?
Are the current TIPs focused on, for example, the owners of a retail chain, on the managers or operators of the retail stores or do they focus on the staff?
Do we operate different TIPs based on whether the outlet is owner operated or managed by the owner's staff?
Do we have a different TIP approach based on channel? If so, what is that approach and how do they differ?
What are the current TIPs trying to deliver? Are they based on volume, on achieving a target, on running promotions, on brand knowledge, on brand range, on product presentation, on pricing, on display, on exclusivity, on anything else?
What incentives do we offer in these TIPs? Have we had the same incentives in place for a long time? Have we asked the target audience if they have any views on our incentives?
What TIPs do our competition use? To what extent have they achieved success with them? Is there anything we can learn from their TIPs?
How are our TIPs measured? What does success look like? How do we measure their usage by the TM&D team, their implementation, their success? Do we use mystery shopper programmes?
Do we receive data from our trade partners on the implementation and results of TIPs? Is the receiving of data a condition of the current TIP?
Who coordinates TIPs? Is there a centralised approach? Do we have a policy and an agreed process for TIPs? Do we have a key accounts department? Do they have control or oversite of TIPs or do they keep focus to key account agreements and trading terms? Where do these cross over and how is this managed?
Who implements TIPs? Is it done centrally at HQ, is it done by channel, by key account, by region?
Can a trade marketing representative or territory manager implement and run TIPs in their own patch? If so, who coordinates that approach?
Are TIPs used to create and foster a culture of empowerment across our TM&D/RtM teams? Are we capturing the learning from TIP successes in one geography to allow us to roll this out to others?
Do we have the ability to test market our TIPs in specific geographies?
Who holds the budget for TIPs? How is it controlled and managed? Is it one central budget or, for example, split up by geography or by channel?
Can a TIP be run at a local level in a modern trade outlet where there is a central key account approach? If not, then why not? If yes, then how is this managed? What is the link to key accounts? Is there an agreed process and communication set up?
How does the above inform our approach to future TIPs? What is our overall approach to TIPs and their management?
What will our TIP training needs be and how will this be translated into our training programme?
I hope you find this useful, as always views and comments are welcome. Next, I will cover Step 14 'Technology'. Please subscribe to the blog on this page, to ensure you don't miss the latest updates on RtM excellence in execution and the 20 Steps model. If you would like to know more about the 20 Steps click here.