I am in the middle of writing a blog series on Route to Market (RtM) success in emerging markets, with a specific focus on Africa. I have been receiving some excellent feedback throughout (many thanks!). One topic has come up several times and I will now address it in this blog.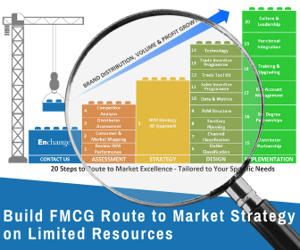 How do I develop an RtM strategy for emerging markets, either for a new company, a new category or for a market entry, when I have very limited time and resources for gathering complex market insight data (size of market, trade census, competitor data, market intelligence, distributor analysis, etc.)?
Let's attempt to answer this question. For me, the key point to make upfront is, there is no incorrect strategy, or at least it's almost impossible to determine at the outset, which strategy will be successful. But what we can say at the outset is, there is a right and a wrong way to approach strategy development, regardless of resources.
Top line, no matter what resources you have, you need a well thought through plan that covers all the key RtM areas. Let me dig a little deeper.
If an existing company is looking to launch a product into a specific category or market, or if a new company is looking to launch a new product into a new category or market, regardless of the resources in either case, a plan is still required that covers the A to Z of RtM. I would suggest using our 20 Steps to Route to Market Excellence Model or some other sort of strategic framework that will guide you through each step or area. The point of using an RtM framework is to help make the best decisions possible, while not missing or ignoring key areas. When developing a route to market plan all of the steps or stages or pathways, must be covered, regardless of any limited information that may be available. It is nearly always better to 'make a decision' on a key strategic or operational area with limited information, for example on trade coverage, rather than delay or ignore due to lack of resources.
Let's take an example. If we do need to make a decision regarding trade coverage, and we cannot afford to conduct a national trade census, which is often the case, then we should use the best available information. The solution may be a version of what we already have, i.e. our current customer list or database. Alternatively, it could also be a listing from publicly available information, information from our distributors, a compilation list from our sales force, or a combination of these or other solutions. It's amazing what desk research can pull together.
The important point is never to ignore a key element of route to market strategy, due to our perceived or actual resource limitations. Never be afraid to make an RtM decision; make it on the best information available at the time.
If you would like to know more about our approach to Route to Market excellence click here. If you need more specific assistance, please reach out to me directly.
Please subscribe to the blog on this page, to ensure you don't miss the latest updates on RtM excellence in execution.