Wouldn't it be great if someone developed and shared a step by step model detailing how to build and improve route to market execution, sales execution and trade marketing strategic and operational plans? After 20 years in RtM and after working with Enchange and some of the biggest multinationals around the world, I have now developed just such a model.
First things first, where did it all start?
In the summer of 1998, I had just finished my Degree and Masters. Tom Hanks was searching for Private Ryan and I had yet to get my first mobile phone. The dot com bubble had yet to inflate and I was desperate to get my first 'sales' job with a company car. I really wanted to start my career, I wanted to begin my climb up the sales ladder, I wanted to follow in my father and brothers' footsteps, but more than anything, I really wanted the independence of my own transport. It's amazing how you view the world at 21!
As it turns out, I did start my sales career that summer. I joined an agency in Dublin, doing sales promotion and merchandising with Showerings (Allied Domecq) and Grants of Ireland. My focus was the spirits division in the grocery sector. I also finally got that company car (sort of). My red 1998 Diesel Ford Courier Van, it may not have been the sales man's dream Beemer or Alfa, but I loved that little van. Most importantly, my career had started, and I was on my way.
Moving on into Diageo later that year and then entering the tobacco industry for 15 years, mainly British American Tobacco, allowed me to experience in detail the breath of roles across the sales, route to market and trade marketing and distribution functions. When you work in the tobacco industry, and you can't communicate with consumers on billboards, or TV, or almost anywhere, you live and die by route to market (RtM) execution. I loved that challenge.
Following a successful and enjoyable career working for multinationals, I joined a specialist supply chain and RtM consultancy company, Enchange. Enchange shared my passion for RtM execution and has been delivering RtM improvement programs with amazing results for some of the world's leading companies for the last 25 years.
Together, we have spent the last number of years refining our approach and building a model for RtM execution. I would now like to introduce you to the '20 Steps to RtM Excellence'.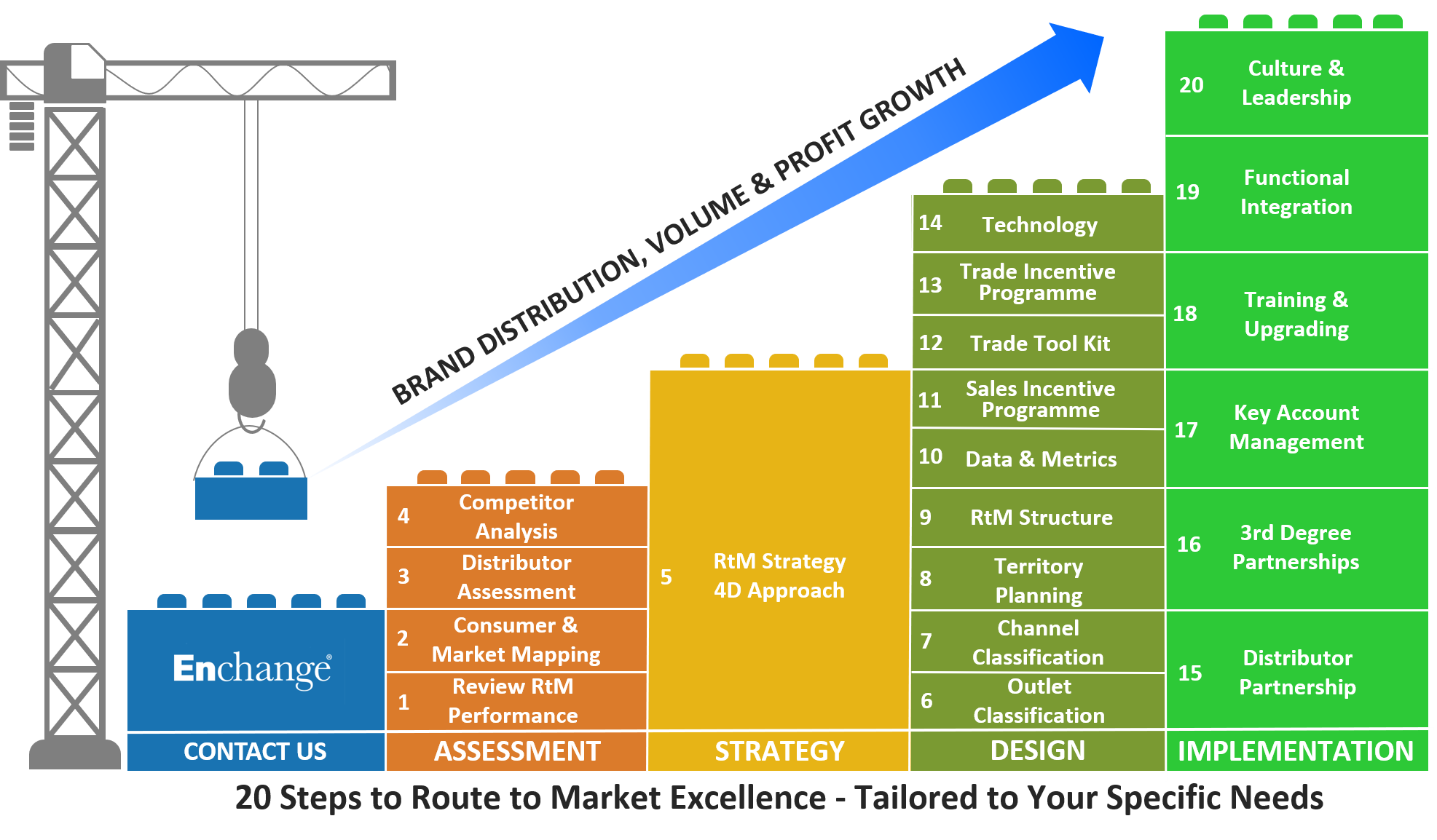 This methodology not only combines decades of RtM experience, it brings a strategic approach to delivering excellence in RtM execution. It gives you a systematic step by step approach to driving sales and share growth while meeting consumer's needs.
The 20 Steps are split across four phases of Assessment, Strategy, Design and Implementation. Over the next weeks and months, I will be sharing more and more information on each of the 20 steps, how they work, how they build on each other and how they can transform an organisation to deliver sales growth.
I hope you will find this helpful and I would really appreciate your views and comments below. Please also sign up to our blog, you can do so on this page, to ensure you don't miss out on the latest updates on RtM excellence in execution and the 20 Steps model. If you would like to know more about the 20 Steps to RtM Excellence, please visit our website here.