Key Account Management (KAM) is how Route to Market (RtM) leaders effectively and efficiently manage the relationship with specific and strategic customers, or customer groupings, to deliver on RtM targets.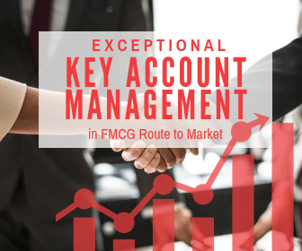 Customers are classified as Key Accounts based on a variety of reasons. For example, it could be because they have a large numbers of retail outlets all branded under the one name. It could be that they operate several bars and restaurants, that are of key importance for delivering your RtM Targets. Your wider organisation may also mandate that specific global customers are treated in a certain way. There could also be dozens of market specific reasons why you might assign a customer(s) as a Key Account.
Regardless of why a customer is assigned to KAM, the important issue is, how they are managed, how the relationship is nourished, how their growth plans are implemented and how they are serviced across our organisation. The central element to KAM is relationship.
Success in KAM Management requires careful consideration, especially if you are either new to the concept of KAM, or if you feel your organisation is not doing it right.
Welcome to my blog series on the 20 Steps to Route to Market Excellence model. Over the past number of months, we have gone through the first 16 steps of my model. The focus of this post is Step 17 'Key Account Management (KAM)'.
Here are some examples of questions you can ask when reviewing, developing or building your Key Account Management (KAM) department or approach:
Based on the RtM Strategy chosen on Step 5 and the Channel Classification in Step 7, what is our desired approach to Key Account Management?
On what basis do we determine that a customer falls into the KAM arena? Is this based on size, current performance, volume, uniformity, number of outlets, ownership of outlets, location of outlets, strategic importance, etc.?
If the customer has a KAM classification in other markets that we or our parent company operate in, does that have a bearing on our local classification?
Will we have different levels of KAM classification? For example, should we assign the label of 'National Accounts' to our larger national hypermarket retailers, who have a presence across our market? Or might we assign the label of 'Key Accounts' to some regional larger retailers who have multiple stores in one area of our market?
Where does Channel Management fit into KAM? Will we classify our business or customers into Modern Trade and Traditional or General Trade? Will KAM sit into one or both of these channels?
What proportion of our overall business is Key Accounts (as opposed to the Traditional or General Trade)? How to we expect this proportion to develop in the coming years? How will this shape our approach to KAM?
Will there be a RtM manager who has overall responsibility for Key Accounts regardless of which Channel, Area or Region the Key Account is in?
What might this RtM manager have responsibility for? For example, would they manage and be responsible for volume, display, product range, training, strategic approach, relationship, negotiation, reporting, targeting, budgets, etc.)?
Based on our Competitor Analysis in Step 4, how does our competition view KAM? Are there any learnings for us in their approach, or does their approach change our own?
Do we treat all Channels and/or Key Accounts in the same way? For example, will the distributors and cash and carry's or wholesalers in one region of the country be managed differently than in another? Will this be reflected in the structure? Would the distributors in the North of country be managed by a Key Account Manager who reports to a RtM Manager with responsibility for the North?
Are we clear about the types of individuals who will manage or become Key Account Managers? Do we have specific criteria? What is it? Have we properly weighted the importance of relationship building in looking at individuals?
Where does Key Account Management sit in the organisation structure? What is the relationship between KAM and the RtM field force who potentially manage and call on the individual outlets? How is communication managed between the two? In practice, do they really talk to each other or limit themselves to mandated reporting and communication?
Are we clear about the levels of importance of each channel or Key Account? Have we taken into account all RtM Targets, including strategic importance to us? Have we looked at this importance/power angle from the side of the customer? How important or necessary are we to them? How does this feed into negotiation?
Do we have detailed Key Account Plans for each account? Does this clearly detail what our objectives and targets are for each account? Have we worked with the account in developing these? Have we worked with the internal stakeholders who will and can influence these? Do we simply want engagement with the account, or partnership, or preferred partnership, or exclusivity? Have we looked at previous years plans and taken learnings from them? Do we include what our individual account's future plans or aspirations are?
Do our Key Account Plans cover all areas of engagement between our two organisations, for example top to top meetings, Key Account reviews, wider RtM team interaction at customer level (e.g. retail or distributor), corporate entertainment/relationship building, order placement, deliveries, feedback on promotions, information sharing (e.g. sales/EPOS data), authority/empowerment, invoicing, seasonality factors, etc.?
What is our approach to negotiating Key Account Agreements? When will they be negotiated? Who will be in the room from our side? Who has the authority to negotiate and to agree?
What happens in the event of a stalemate or breakdown during Key Account agreement negotiation? What will the layers of escalation be? What is our approach to negotiation training?
Do we have a full negotiation strategy per Key Account covering all elements of the agreement and estimated potential scenarios? Has this been agreed and signed off by all stakeholders?
How are we currently rewarding or incentivising Key Accounts? What is the current reward mechanism, e.g. rebate, discount, payment etc.? Is it based on volume or revenue or profit or other RtM targets? What is the potential role of Third Degree Partnerships (3DPs) here?
What role does margin play in our relationship with our Key Accounts? Do we have the control to set it? What are the internal and/or external factors that may affect our ability to set our pricing and margins?
How do we manage and control Key Account investment? Who manages this? How do we determine levels of investment per Key Account?
What payment terms do we operate across our RtM? How do payment terms fit into KAM? Do we have specific payment term targets, by account, by region, by channel, by customer? Do we have the mechanisms in place to facilitate the different forms of electronic payment? Do we have minimum acceptable payment standards? What is our overall approach to payment terms in relation to KAM?
Which of our Channels and Key Accounts are growing? Which are declining? How is this reflected in our overall strategic and individual approach to KAM?
How do we capture learnings across KAM? Do we have a process for capturing success in one account and replicating it in another?
What is our overall approach to KAM? What is our implementation plan for rolling this out?
I hope you find this useful, and any views and comments are most welcome.
Next, I will cover Step 18 'Training & Upgrading'. Please subscribe to the blog on this page, to ensure you don't miss the latest updates on RtM excellence in execution and the 20 Steps model. If you would like to know more about the 20 Steps click here.