Welcome to my blog series on the 20 Steps to Route to Market Excellence model. Over the past number of months, we have gone through the detail of the first 15 steps of my model. The focus of this post is Step 16 'Third Degree Partnerships (3DPs)'.
Step 16 represents a different concept and approach to motivating your customers to want to deliver on your targets. I hope it is helpful, and I welcome any feedback. So, what are Third Degree Partnerships (3DPs)?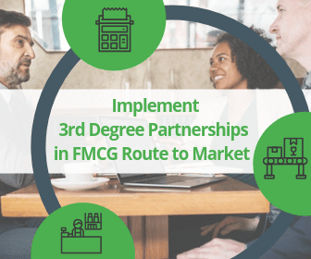 Third Degree Partnerships (3DPs) are where a Fast-Moving Consumer Goods (FMCG) company identifies its customers key issues, costs or constraints, and then forms a partnership with a service provider who can solve them for the customer, at a significantly reduced cost.
The benefit for the customer is access to cheaper services. The benefit for the service provider is access to more customers. The benefit for the FMCG company is the ability to use the provision of a 3DP service as if it was a trading term or key account payment to the customer, with almost zero cost.
In short, we identify our customers key issues, we then identify a service provider who can solve them, and we use our size and clout (maybe even our global reach?) to negotiate a much-improved price or access to the service for our customers. We then decide what we want in return for providing our customers with access to this 3DP club.
What would we want in return? Examples include, product listings, exclusivity of some form, increased product range, pricing or other promotions, improved display, minimum volume targets, brand dialogue, use of a new distributor, access to a territory, etc.
Why would you use 3DPs instead of a cash payment or discount? Several potential reasons. For example, maybe you have significant pressure on Route to Market (RtM) budgets and need to spend less in the key account or customer payments area. Maybe you need access to a new strategic channel and the costs of entry would eliminate profitability. Maybe you are facing pressure and need to boost sales but have no budget for promotions. Maybe you are facing significant competition and need a fresh approach to work with certain customers.
Think of 3DPs as a type of rewards club for our customers. They may require time to set up but have little associated cost for us as FMCG leaders, provided we do the ground work.
Here are some examples of questions you can ask under Step 16 'Third Degree Partnerships (3DPs)':
Based on the Channel Classification in Step 7, what are the different segments of customers in our market?
Looking at each customer segment, which are the most appropriate or suitable for 3DPs? Where will 3DPs have the most potential value or be the most valued?
Would there be a greater applicability in the less organised General Trade versus the more organised Modern Trade, for example?
Do we feel providing our Horeca owners with access to reduced cost services will be as beneficial as providing reduced cost services to international retailers?
Could the customers in question get access to these reduced cost services themselves? If so, why have they not done so? Is there still a value in these services?
Is there any specific channel in which we are under-performing? What are the reasons for this? What are the defining characteristics of the channel? Could a 3DP help us here?
Have we included and looked at the specific geographic issues, challenges and nuances within our specific market, to map out our local customers' challenges? For example, the islands of Indonesia, the congestion in Bangkok, the vast geography of African countries, the severe temperatures in Russia, to name a few?
Considering each customer segment, what are the customers' key issues, costs or constraints? In other words, what are the problems our customers are facing for which we could provide solutions?
Looking at each of these key issues, costs or constraints, can we identify service providers who can solve these?
Are these potential service providers local to the market? Is there a potential for us to bring in external suppliers to the market? Would we want to do that? Does that create more issues for us in setting up the 3DP or does it make the 3DP more powerful?
Can bringing in external service providers as part of a 3DP create barriers to entry for our competition and barriers to exit from the 3DP for our customers?
Are there particular services that we, as an FMCG company, benefit from, that we can in turn provide to our customers through 3DPs? Can we use our size and scale to negotiate a package or price and offer access to our customers in return for something?
What services might we offer as a 3DP? For more inspiration, download our Implementing Third Degree Partnerships (3DPs) in Route to Market Guide here.
Have we prioritised the potential services that we may offer as part of our 3DPs? Have we ensured that the 3DP programme will not reduce focus from achieving our RtM targets but instead assist with them?
Have we looked at why we would use a 3DP instead of another incentive? Have we detailed what we would ask for in return for access to a 3DP?
How will the 3DP programme be managed? Will key accounts manage the programme? Will we require additional resources in the RtM function to do this? Must this be done on a national level or will we allow regional implementation?
Have we involved our legal colleagues in the contracting process to make sure there is no exposure for us from the services provided by the service provider(s)?
Have we conducted a risk assessment to look at any specific local or other issues that may affect the 3DP programme?
Taking all the above into account, what would the overall 3DP programme look like?
I hope you find this useful, and as I said, views and comments are most welcome.
Next, I will cover Step 17 'Key Account Management (KAM)'. Please subscribe to the blog on this page, to ensure you don't miss the latest updates on RtM excellence in execution and the 20 Steps model. If you would like to know more about the 20 Steps click here.