Let's start at the beginning. When we talk about Channels, we are referring to channels of distribution to get products from a manufacturer to a consumer or customer. There are many ways to achieve distribution, e.g. direct to consumers (e.g. online, mail order), through retailers, through wholesalers then retailers, through wholesalers then cash & carry's and then retailers, through other types of intermediaries/agents, and the list goes on and on.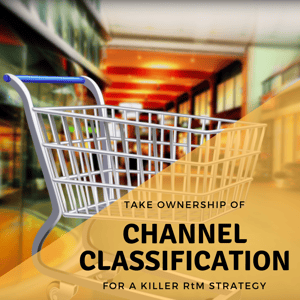 For consumer goods, when we discuss Channel Classification, we are talking about identifying all potential and possible routes to the consumer, and dividing them up into homogeneous groupings, often based on physical format. The main benefit of doing this is so that we can effectively manage, resource and measure performance of these channels to achieve our RtM goals.

For example, an FMCG company may service the retail outlets across a country through 3 main channels, Grocery, Convenience and Horeca (Hotels, Restaurants & Cafe's/Catering). The channels may be further split into sub-channels – e.g. Grocery could be split into Discounter, Hypermarket, Supermarket, etc. This is mainly based on the format of the stores and who owns them. Channel Classification does not generally take into account outlet specific criteria such as volume, location, consumer profile, footfall, opening hours, engagement opportunity etc., for this we need to look at Outlet Classification.

Channels of distribution can vary significantly depending on sector. For the soft drinks, confectionery or tobacco industries, the "Vending Channel" could be a significant source of revenue and focus but may not even be on the radar for other sectors.

Here are some examples of questions you can ask when looking at Channel Classification:
What are all the potential and possible channels of distribution that you can use to get product to your consumers or customers?
How do you currently segment your universe and classify channels and sub-channels?
Which channels do you currently focus on?
Which channels and sub-channels do you not focus on or are you not present in? What is the reason for this?
Are you measuring the performance of your current channels and sub-channels?
What is the current channel performance based on volume, share, brand distribution, display, range, TM&D opportunities, etc.?
Which channels have the most growth potential?
How does the previously reviewed Consumer Behaviour & Trends impact on future channels?
To what extent are you using or focusing on the more 'traditional' channels in your industry? For Example: Modern Trade, Traditional Trade, General Trade, Online, Digital, Direct Sales, Key Accounts, Wholesale, Cash & Carry, Warehouse, Grocery, Discounter, Convenience, Mom & Pop, Pharmacy, Organised, Independent, Horeca, Nightlife, Hypermarket, Supermarket, Petrol, Kiosks, Open Windows, Street Vendor, Self Service, Counter Stores, Vending, On Trade, Off Trade, etc.
Are there any potential niche or alternative channels you could be targeting?
Are you looking at direct to consumer options, e.g. mail order, telesales, online? Are these relevant in your field?
What approach are you taking to digital and e-Channels?
Will you look to target specific activities or resources at the different potential channels?
How will you resource each channel in future with people and money vs how you currently operate?
Will you have channel managers and how will responsibility be shared if channels cut across regional geography splits?
Which channels offer the best growth potential?
Which channels offer the best access to current and/or potential customers or consumers?
Which channels offer the best TM&D opportunities?
Based on your Competitor Analysis (Step 4 of the 20 Steps Model), how does your current and potential future set up compare?
What are the agreed target channels, resource requirements and training needs?
This post is part of my blog series on the 20 Steps to Route to Market Excellence model. The model is designed to give FMCG managers a step by step guide to building or reviewing their RtM strategy to maximise growth opportunities. This post focuses on Step 7 'Channel Classification'. You can read about the previous steps here.
I hope you find this useful, and I welcome any views and comments below. Next week I will cover Step 8 'Territory Planning'. Please subscribe to the blog on this page, to ensure you don't miss the latest updates on RtM excellence in execution and the 20 Steps model. If you would like to know more about the 20 Steps click here.