Welcome to my blog series on the 20 Steps to Route to Market Excellence model. The purpose of this model is to assist and guide consumer goods professionals when they are putting together their strategic and operational plans to tackle their Route to Market (RtM).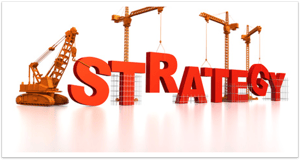 The 20 Steps are split into 4 phases, Assessment, Strategy, Design and Implementation. Over the last number of weeks, we have gone through the first 4 steps which cover the Assessment phase on the model. We now move to the next phase of the model, Strategy. The focus of this post is Step 5, 'RtM Strategy & the 4D Approach'. Whilst it may be the only step in this phase of the model, it may well require more time than any previous step.
This step is where we bring together all the information we have gathered and reviewed during the Assessment phase. We have reviewed every element of our current approach looking across the 20 steps, we have mapped out the entire marketplace and the total number of points of purchase. We now understand our consumer trends, and what the realities of our marketplace bring. We have assessed our current and the potential distribution models and we have analysed the competition. Now it is time to reflect on all of this and to make the big strategic decisions as to our approach to the 4D's (Distribution, Display, Dialogue and Digital).
It is in this step that we will define and decide upon our DIME Approach (Direct, Indirect, Mix & Everything in between). Our DIME Approach details out our distribution model. We may choose to distribute Direct to retailers (via our own owned distribution network or via a 3rd party), or we may use Indirect distribution through intermediaries like wholesalers, distributors or cash & carry's. We may also have a Mix of Direct and Indirect distribution. But our DIME Approach will be clearly defined in this step.
Below are some of the questions you should ask under Step 5 – 'RtM Strategy & the 4D Approach'.
What are the organisation's goals? What is the Sales Function/Trade Marketing Function or Route to Market Function charged with delivering?
What are the specific distribution, display, dialogue and digital goals to be achieved?
What are the revenue, volume and share goals to be achieved?
Do the short term, 12 month goals and the longer 5 year goals support one another or do they suggest that a different approach to RtM is needed?
What is the budget available to deliver these targets?
What processes do we need to adapt or put in place to support our strategy?
What are our constraints? Do we have access to the required skilled people to fill roles? What, if any, are the legal or regulatory constraints? Are there other constraints particular to our market?
Will we have a national approach, a regional approach, a channel approach and/or a key account approach? Will we have a prioritised mix of these approaches? If so, based on what criteria?
How do we measure success? What data and metrics do we require?
What is our approach to order capture?
What will we equip the sales force with and what is our approach to training and internal incentives?
What is our overall approach to key account management, trade incentives and trade engagement?
Considering our current market position, that of the competition, what is our DIME Approach (Direct, Indirect, Mix & Everything in between) to deliver our goals?
Will we use direct methods of distribution and manage it ourselves or will we use distributors? Will we use a mix of direct and indirect? What are the development needs of our distributors?
What are the different RtM options and combinations available?
Have we identified key individuals both internal (sales/trade function & cross functionally) and external to the organisation who we can bounce RtM ideas off? Have we then consulted with and sought advice from these key individuals on the available RtM options?
Using scenario planning, what are the best options available and how would these be ranked?
Based on the chosen DIME approach are there any other decisions that need to be made before we design this strategy?
How best can we present our strategy in a way that engages Stakeholders?
This step requires real clarity of thought and honesty. You need to work closely with the members of your team, you need to include cross functional and interdepartmental teams, and together you can map out your own RtM Strategy and approach to deliver your goals.
I hope you find this helpful, and I appreciate your views and comments below. I will pick this up again next week, with Step 6 'Outlet Classification'. Please subscribe to the blog, you can do so on this page, to ensure you don't miss out on the latest updates on RtM excellence in execution and the 20 Steps model. If you would like to know more about the 20 Steps to RtM Excellence, please visit our website here.