How do we implement real change to deliver the best possible Route to Market (RtM) in challenging developing markets? Enchange has been in the business of transforming clients Route to Market (RtM) for over 25 years. Last year I built on that bank of knowledge by developing and sharing the 20 Steps to Route to Market Excellence. This was designed to not only showcase how we approach RtM, but also to help our clients, our followers' and those with any RtM issues to systematically examine their own RtM strategy and execution.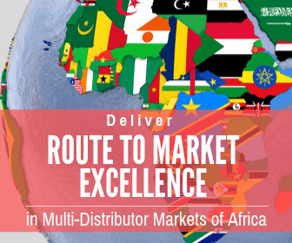 In 2019 Enchange has been engaged in several major RtM transformation projects for our multinational clients. A number of these projects have been in vibrant and growing African markets. Enchange knows Africa very well having been founded there over 25 years ago. We love nothing more than the excitement and challenges involved in delivering RtM excellence in Africa.
Whilst no two clients or projects are the same, there are very often some common themes. The markets we are currently working in are a mix of major cities and expansive rural areas. These markets have, in some cases, extreme volume concentration in these cities. They are all indirect distributor led markets, which means our clients don't control the movement of their own product from factory or warehouse, through the supply chain right up until the point of sale.
I could go on about the similarities in these markets, but what about the key challenges? Again, there are many common themes. Let's look at some of the top issues faced by Fast Moving Consumer Goods (FMCG) companies in multi distributor markets in Africa:
How can we increase sales volume through our distributors?
How can we increase trade coverage through our distributors?
How do we better manage our distributors? How can we help our distributors better manage and support their sub-depots to achieve our common goals?
How do we beat the competition in a multi distributor model in Africa?
How do we motivate and get the best out of our distributors?
How do we assess the performance of our distributors?
How do we develop a program to better partner with our distributors?
How do we improve the resources within our distributor's organisation?
How do we get the best from distributors with limited resources?
How do we integrate and make the best use of technology in our RtM strategy?
How do we guard against, minimise and/or prevent bad debts? How do we manage any cash or credit process?
How do we get the desired brands and product ranges into the right channels?
Is our internal RtM structure designed to best support our distributors?
How can we help our distributors to better achieve our common goals?
What level of resources and tools should be employed to drive distributor success?
How do we manage distributor territories/geographies/zones? Should we or can we assign a distributor to a specific geography?
Should an FMCG supplier look at getting directly involved in distribution? If so, to what extent, at what level, across what geography and to what consequence?
Do we really understand the relationships through the supply chain right up to POS?
In 2019 Enchange have faced all the above challenges in African markets. Some of these challenges we faced in markets with sales growing, some with sales initially declining, some with pockets of growth or decline, some with good trade coverage some with poor trade coverage, and everything in between.
But in all cases, Enchange have delivered a Route to Market strategy to win for our clients. Over the next number of blogs, I will share more information about how we have delivered success for our FMCG clients in Africa.
Please subscribe to the blog on this page, to ensure you don't miss the latest updates on RtM excellence in execution. If you would like to know more about our approach to Route to Market excellence click here.