There are many things I have seen in over 20 years in the unbelievably exciting Fast-Moving Consumer Goods Business (FMCG). There are many things I can talk about and stories I can tell. But since I was first handed the keys to a van in 1998 to stock shelves in retail, right up until my most recent board presentation to the global CEO of a FTSE 100 FMCG company, one thing has always remained constant, Leadership drives Culture.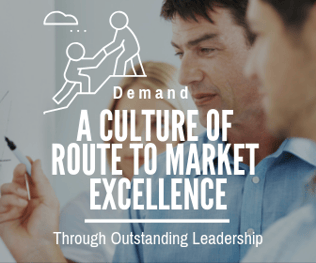 What FMCG Leaders say, what they do, how they do it, and how they live it, drives company culture. In other words, it drives what we do and how we do it around here. If we want to deliver real change and improvement in Route to Market (RtM) excellence, the senior management team, from the CEO down, must fully buy into and demonstrate that change.
Welcome to my blog series on the 20 Steps to Route to Market Excellence model. The 20 Steps are split into 4 phases, Assessment, Strategy, Design and Implementation. My goal in creating the 20 Steps, and in writing these supporting blogs, is to provide FMCG leaders with a methodology or framework that will allow them to review, transform or build their RtM capability in a structured manner, covering all elements of the RtM strategy.
Over the past number of months, we have gone through the first 19 steps of my model. The focus of this post is the final Step 20 – 'Culture & Leadership'. When we review, transform or build RtM capability, the journey will not be linear. I say this because Step 20 will not be the last thing you do, but it will drive the entire process. For example, Step 1 Review RtM Performance, involves looking at all the current elements across your RtM, you might say it involves reviewing your existing 20 Steps, including Culture & Leadership.
Here are some examples of questions you can ask under Step 20 – Culture & Leadership:
Before you start your RtM journey, what is the leadership platform that will drive success? Do we have the active support of the CEO, for example?
To what extent are senior management at regional or global level supportive? Who will sponsor the changes that will be required? If we do not have senior management's active support, to what extent will we be able to drive meaningful change?
Based on the results of Step 19 Functional Integration, what are the functions and departments within the organisation that have been identified and mapped out as key elements of the RtM Strategy?
Have these functions and departments been involved in the RtM strategy process thus far? For example, could we rank the department involvement from a level 10 (heavily involved) down to level zero (not yet engaged with)?
Who are the key individual influencers within the organisation whose opinion carries weight across key departments or functions? Have these individuals been involved in the RtM process thus far? To what level has their involvement been?
Who are the key external stakeholders, whether affected by the change or not, that need to be involved?
Is there specific buy in or agreement that we need to get, in order to make and facilitate these changes? Will any of the changes have any political, legal or governmental consequences?
What does our overall stakeholder map look like? Do we feel there are any gaps?
What are the key messages that we need to deliver to the organisation? For example, why did we start this process? What was the need that drove the change? What changes have we made? Why did we make them?
How will this new approach impact our employees, on their departments and on the company? How will this improve our current position? How will these improvements better equip us for the future?
How will these changes help us to beat the competition? How will these changes better equip us to service our customers? How will these changes be seen by our other external stakeholders?
How will these changes effect company departments traditionally not seen as sales or RtM focused? How do we engage and bring them along on our journey?
How would we describe the current company culture? How do we do things around here?
How big a cultural shift are we trying to make? Are we moving from an autocratic style of management where the "boss" tells people what to do, over to an empowerment centric culture where we want to see the RtM front line staff create and build new ideas? What does the size and nature of this shift mean?
In what timescale are we looking to make these changes? Is this realistic?
What are the essential behaviours we want to see in the organisation to make the new RtM approach successful?
How do we ensure that we are getting the essential behaviours across the organisation to deliver on our RtM strategy?
Does all of the company executive committee, management board, top team, management team, etc., understand the new RtM approach and the rational for change? In other words, has the Senior Management (CEO/Managing Director, and all direct reports) been brought through the entire process to ensure active advocacy?
How will the Senior Management group show their support for the new RtM approach? Will there be a specific launch of the new approach? How will they be involved? What are follow up phases to this launch? How does the entire organisation see this advocacy and Leadership come to life?
What is the overall change management plan to win the necessary stakeholder buy in to deliver RtM Excellence?
I would like to thank you very much for reading any or all of my blog series on the 20 Steps to Route to Market Excellence. I hope you find this useful, and any views and comments are most welcome. Although this is the final step in the framework, we will continue to discuss key RtM issues over the coming weeks and months.
Please subscribe to the blog on this page, to ensure you don't miss the latest updates on RtM excellence in execution and the 20 Steps model. If you would like to know more about the 20 Steps click here.