The FMCG business is like a team sport. There are sales people sent into the field, to sell more products and beat their targets. There are players put on the sports field, charged with scoring points and winning the game. In both scenarios, if the people behind the scenes don't do their job, those on the front line can't deliver. It's that simple.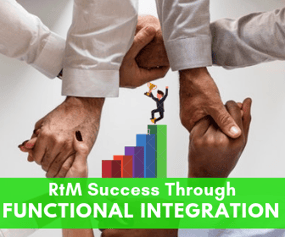 Route to Market (RtM) professionals need inventory to fulfill orders, budgets to execute Key Account agreements, Point of Sale (POS) material to help increase sales, devices to record information, take orders and communicate, vehicles to visit customers, etc. The RtM/Sales or TM&D (Trade Marketing & Distribution) function must have clear and open two-way communication with all the other business functions. Functional Integration is a cornerstone to any successful RtM strategy.
My first lesson in the need for Functional Integration came when I was a Sales Rep for an FMCG multinational in the late 1990's. The Marketing Department was doing a big push for one specific brand. They sent every rep a large package of POS material with clear instructions to place it in retail. The main POS material was a cash mat. Cash mats are designed to be placed next to the till, on the counter between the retailer and the consumer, and are where the retailer can place notes and coins as part of the consumers change from their order. They protect the retailers counter, make it easier for the consumer to pick up their change and they can provide a great opportunity to communicate with the consumer at the actual point of purchase.
These particular cash mats were beautiful pieces of POS material. They were very high quality, the message they communicated was very clear and they were also very durable. But there was one big problem. They didn't fit into the available space in the retail stores. There had been no interaction, consultation, or communication between the RtM function and the marketing function during their development. A lot of money could have been saved if there had been proper Functional Integration.
Welcome to my blog series on the 20 Steps to Route to Market Excellence model. Over the past number of months, we have gone through the first 18 steps of my model. The focus of this post is Step 19 – 'Functional Integration'.
Here are some examples of questions you can ask under Step 19 – Functional Integration:
Based on the RtM Review in Step 1, what are the other business functions that your RtM, Sales or TM&D department currently interacts with? Have you explicitly identified them?
Are there currently 'rules of engagement' for the different interactions with the other functions, or has it just evolved?
For each business function or department, to what extent have we identified the nature of the integration required? For example, what key processes are involved? What are the related process inputs and outputs? Have levels of inter-departmental performance been defined? Are these levels of performance explicit? If so, how has performance been defined? Do internal Service Level Agreements (SLAs) exist, for example?
Based on the new RtM Strategy in Step 5, how will the functional interaction with the RtM department and other functions change? What new rules of engagement need to be established? How will this be measured?
What is the nature of the integration with Supply Chain? How do we feed information into the Supply Chain Department? For example, who decides what the demand will be over the next few months? What are the implications for the Logistics Department? Has the RtM Department fed into these processes?
Do we have an S&OP (Sales & Operational Planning) Process? Has the RtM Department fully bought into this process? Are we represented in it? Is it clear what information we should feed into this process? For example, what is the role of the RtM Department in the Demand Review Process?
Who receives our information on Out of Stocks in the field? What actions are taken based on this? How do we prevent them? What help do we need to do this?
Do we accept product returns from customers? If so, who manages this process and what departments interact with this?
How does the RtM department interact with the Brand Marketing department? Has this process been formalised? How often do representatives from the marketing department attend trade field visits?
Does the RtM Department feed into Point of Sale (POS) material development? If not, why not?
Do we place any promotional trade assents in the field? Who manages this process? Who provides feedback on their applicability and usefulness? Who tracks and manages them as assets of the business? What is our process for this and which function is responsible?
How does the RtM Department interact with the Finance Department? Who sets prices, margins, budgets and discounts within the RtM department? How does Finance fit in with this? How do we currently feed trade information into Finance? How will this change under any new RtM Strategy?
How do we open new accounts with customers? Are any other departments involved? Who sets payments terms? Do we offer credit? Who then sets individual customer credit limits? How does the RtM department feed information into this?
How do we collect payment from our customers? Is it all electronic? Do we accept any other forms of payment? Do we accept cash? What are the processes and procedures for this? Which departments are involved? Do we have a Security or Health & Safety Department or Function? Is this part of HR? How do we interact with them?
How do we interact with the IT department? Do we have a CRM solution or hand-held device that is used to take orders and record market data? Who maintains this? Who feeds them information about its real-world application and actual issues?
How does the RtM Department interact with the HR Department? For example, do we have a system for performance appraisals? Who is responsible for RtM Training & Development? Who manages performance appraisals? How do receive the company policies & procedures? How can or do we feedback on them?
Who manages our company equipment, like cars, phones, tablets, laptops, uniforms, etc? How do we provide feedback on these? To whom?
How does the RtM Department interact with the corporate/public affairs or PR department? For example, how often do they make trade visits? How do we feed information to them? How can they speak publicly or address key issues about our products or communications, without speaking to the department who deals with our customers?
How open are we as a department? Do we have regular conferences and regular meetings? Do we invite other departments? Do we actively manage our relationship with other departments? Do we try to attend other departments key meetings?
What is our plan to on board the other company functions to our new approach to RtM? Have we consulted them throughout the process to accelerate buy in? Have we looked at which specific areas within the 20 Steps to RtM Excellence will impact on which specific functions?
What is the overall strategy to ensure the RtM Function is integrated with all necessary departments and functions across the organisation?
I hope you find this useful, and any views and comments are most welcome.
Next, I will cover the final step, Step 20 'Culture & Leadership'. Please subscribe to the blog on this page, to ensure you don't miss the latest updates on RtM excellence in execution and the 20 Steps model. If you would like to know more about the 20 Steps click here.