I recently started a blog series on indirect distribution by sharing our step-by-step approach to drive and develop distributor performance. We call this the Distributor Partner (DP) Development Programme.
The programme has eight modules, across three key stages. At Enchange, we use this approach to do the following:
Training - Up skilling FMCG RtM or Distributor Managers
Performance - Drive performance and execution excellence across all distributors
Strategy - Implement a new FMCG company approach to DP development.
I have previously shared the first two modules:
Module 1 - Producer RtM Strategy – Giving you the ability to translate Producer RtM goals into DP capabilities/actions.
Module 2 – Model Distributor - Facilitating your definition of Industry & Geo-specific Best in Class distribution.
Now that we clearly understand what our RtM approach is, and what our ideal DP looks like, we need to put this into practice. We do this by assessing our current and potential future partners against our vision of the ideal DP. This is Module 3 – Distributor Assessment.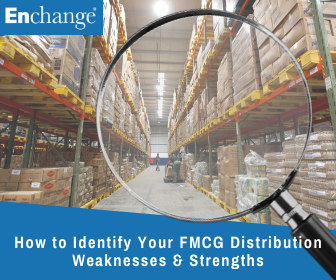 What are Distributor Assessments?
The Third module in the DP Development Programme is Distributor Assessment. This module can be divided into four key elements: A Distributor Assessment is a process that includes:
Assessment Creation: Defining the key questions you need to ask and answer, under each of the Model Distributor principals, and assigning a weighting to each question and principal, that is relevant to your situation, taking account of your industry and geography.
The Assessment: This will allow you to assess and rate your current and potential DPs by answering each question. These assessments can be done virtually or physically on site.
Ranking: Once the assessments have been conducted, you then rank your current DPs, and your potential future DPs in the order of the scores they received, based on the weighting assigned to each question and principal.
Performance Bands: The final stage of the assessment module is to assign your DPs into performance bands based on their rankings. You will need to decide on the number and category of levels, for example - Basic, Intermediate and Leading Edge.
Distributor Assessments tend to be conducted at two levels, Macro (usually conducted first, taking a top line market view of DPs you are not partnered with) and Micro (often conducted after Macro, involving detailed assessments of DPs, including current and potential future):
Macro Distributor Assessments are where you identify and map potential new or alternative distributor options in your geography, and then assess and rank them against your specific criteria at a top line level. Macro assessments tend to be less detailed, as you are searching for an initial top line view. You may also group together or use less of the Model Distributor principals. For example, you may use the following four criteria to develop questions for the assessments:
(1) Partnership, (2) Planning & Logistics, (3) Sales Management and (4) Back Office
If you would like to see an example of the above, you can download our Example of a RtM Distributor Assessment Tool.
Once you have conducted Macro assessments, you may choose the top ranked DPs and bring them through Micro assessments.
Micro Distributor Assessments are where you assess your identified or current DPs against your defined list of weighted Model Distributor principals or criteria, with questions, to perform a Gap Analysis against your ideal or Model Distributor. You then rank them in order, and / or group them into performance categories. Micro assessments tend to be more detailed and covering all the principals of the Model Distributor, including for example:
(1) Partnership, (2) Leadership & Roles, (3) Market Intelligence & Reporting, (4) Operations & Systems, (5) Organisation, (6) Execution & Performance, (7) Financial Health, (8) Reputation.
For further information on Distributor Assessments, you can download our Distributor Assessment Guide.
Who Should Conduct Distributor Assessments?
This is a bit like a company's internal audit process. Let us use an unrelated example, the finance department of Company X, does not perform the financial audit on Company X. They would lack the impartiality and the transparency to do so.
We recommend the same principle for Distributor Assessments. Do not have the Distributor Manager perform audits on the distributors that they manage. Have independent and skilled RtM professionals perform these audits and make recommendations. If you need help or advice here please reach out to us.
Once we have completed the Distributor Assessment Module of the DP Development Programme, you will have identified your Distribution Gaps, and the areas or DPs that either need attention or need to be replaced. Next on the agenda is the need to fix this. I will discuss this in my post under Module 4 – Distributor Partnership.
What should you do now?