I recently started a blog series on indirect distribution. I began by examining the 10 biggest challenges Route to Market (RtM) leaders face in managing FMCG Distributors. Then in response to this in my last post I shared our step-by-step approach to drive and develop distributor performance. We call this the Distributor Partner (DP) Development Programme.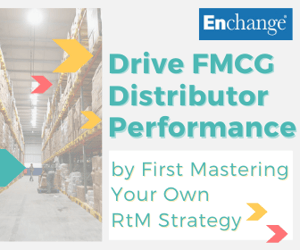 Over the next number of posts, I will go through this DP Development Programme, one module at a time. The DP Development Programme is the approach we use to do the following:
Strategy: Implement a new FMCG company approach to DP development/management.
Performance: Drive and improve the performance of individual distributors,
Training: Train FMCG RtM or Distributor Managers,
The programme has eight modules, in three key stages. Stage one is Internal Producer Focus. The goal of stage one is to ensure that there is clarity within the FMCG Company (the Producer) regarding the goals that can and must be achieved, and what type of partner is needed to deliver these goals.
DP Development Programme - Module 1:
The first module in the programme is Producer RtM Strategy. The desired outcome of this module is the ability to translate the Producer RtM goals into localised DP capabilities and actions. This may sound obvious and easy, but unfortunately many FMCG companies fall at this first hurdle. The producer RtM Strategy needs to be understood and supported across the FMCG organisation from the CEO down to the person responsible for explaining it to, and delivering it, with external DPs.
RtM Strategy has many facets, and we cover these in detail in the 20 Steps to Route to Market Excellence. However, I have highlighted some of the key steps to focus on when driving indirect distribution in this first module Producer RtM Strategy. They are:
Strategy: It is essential to understand all elements of the producer RtM Strategy before we can choose or manage FMCG DPs. We must understand exactly where we want to play, how we are going to play there, and what exactly success will look like for all parties involved.
Channel: We must have absolute clarity on what our channel approach and priorities are. If we prioritise everything, we have in effect prioritised nothing.
Outlet Segmentation: We must identify and focus on the 'Gold' stores – which account for 80% of your FMCG sales – in order to deliver targeted RtM execution. We must know which potential and current DPs can and do cover these Gold Stores, and this needs regular updating.
Competition: You need to understand what the Competitor Approach & Strategy is, and you must be aware of this when assessing or profiling DPs.
Localise: Awareness of and an ability to adapt to the local environment is crucial. If we don't understand fully the local environment, and adapt our RtM approach to it, we are set to fail.
TCTS: We must fully understand what the Total Cost to Serve (TCTS) is, what all the variables are and how TCTS is managed.
Targets/Incentives: We must define clear total company targets (for example, volume, profit, share, brand distribution, display, by brand, by channel, by geo, etc) and they need to be cascaded and clearly explained to the key individuals and DPs charged with delivery. These targets need to be backed up with SMART Incentives that are easy to understand.
Expectations: Based on the above, you need to define the different DP business models that you would ideally like to work with and list clearly across all areas what the expectations are.
Over the next number of weeks, I will discuss each of the remaining 7 modules in the DP Development Programme in more detail, which will allow you to understand the details of what you must do to improve distributor management to deliver excellence in RtM distribution execution.
What should you do now?