I recently started a blog series on indirect distribution by sharing our step-by-step approach to drive and develop distributor performance. We call this the Distributor Partner (DP) Development Programme.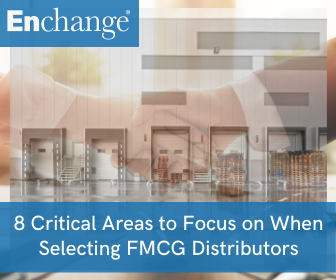 The programme has eight modules, across three key stages. In my last post I shared Module 1 - Producer RtM Strategy in an article Drive FMCG Distributor Performance by First Mastering Your Own RtM Strategy. Now we will discuss Module 2 – Model Distributor.
What is a Model Distributor?
The Second module in the programme is Model Distributor. A Model Distributor is the definitive picture of what an ideal distribution partner could look like for your organisation, in your industry and target market. The desired outcome of this module is a clear understanding and definition of what Industry and geo-specific Best in Class distribution looks like. To define your Model Distributor, you must:
understand the general principles of what excellence in distribution looks like,
understand what excellence in distribution looks like in your geography, and
you must take account of your specific industry requirements and sensitivities.
Your Model Distributor must take account of these three key areas.
Why is a Model Distributor needed?
The reason this module is so important at this early stage in the DP Development programme is twofold. Firstly, at one extreme some FMCG Co.'s see success as simply finding a distributor, and do not think about the serious problems choosing the incorrect partner can cause. Secondly, at the other extreme, FMCG leaders can get led by an unattainable 'global best practice' or a vision of 'what the group wants us to do'. It can be easy to get tripped up here, by for example, forgetting your local geography, specific industry peculiarities, and the type of partner you need for the future.
Here are examples of why the right Model Distributor is critical for your success:
Example One. If you are a Dairy FMCG Co., your Model Distributor would have specific cold storage logistics requirements, and most likely the ability to move short-dated product from producer to consumer quickly. Other FMCG Co.'s may require neither.
Example Two. If you are a Beer FMCG Co., your Model Distributor may require the ability to perform reverse logistics in a returnable beer bottle market. This is very specific to a particular industry.
Example Three. If you are an FMCG Co. operating in a developing market, one of your key Model Distributor criteria may be financial liquidity and the ability to pay invoices and finance their ongoing operations.
The above is by no means an analysis across these three examples, but it shows a clear need for a different Model Distributor in each case, to avoid taking the first distributor to say yes, or never finding some 'best practice' unicorn. There will of course be many common areas of 'what good looks like' across the world, but you must define your own Model Distributor.
What are the principles of a Model Distributor?
To assist with your Model Distributor development, you should consider the following:
Partnership: A true partnership Distributor where all partners (particularly sales staff) in the business participate in two-way collaborative strategic, tactical, and operational planning and execution including a willingness to co-invest to seize opportunities.
Leadership & Roles: The Distributor is

passionate,

committed, and able to take a leading role within the Client-Distributor relationship, with clear definitions on who does what, when, why and how, to win.
Market Knowledge & Reporting:

The Distributor must know the market inside out, they must possess and generate reliable KPI and market data, sharing with the Producer in digestible, agreed formats, with an ability to conduct consumer/shopper research, and take actions on the data to improve performance and efficiency.

Operations & Systems: One whose operations, facilities, assets, and resources are of very good quality, all supported by sufficient digital solutions, and are capable of expansion.
Organisation: People development, training, coaching,

succession planning,

and job satisfaction are priorities, with an organisation structure capable for today, and tomorrow.
Execution & Performance: The ability to deliver excellence in execution, in their territories and channels to deliver and exceed agreed performance levels, with a passion for mutual success.
Financial Health: A healthy P&L and balance sheet, with sufficient free cash flow for today's operations and future growth.
Reputation: Trustworthy ethical partner, with a track record of delivering the above principles, especially results, in your industry or a similar one, and in your geography, or in a similar one.
Depending on your industry, your market, your RtM goals, and your level of market maturity, you may put different weightings on each of the above. Once all this has been completed, you will then need to perform a gap analysis assessment against any potential partner, using all the above.
In my next post, I will focus on this Gap Analysis. It is Module 3 of the DP Development Programme known as Distributor Assessment.
What should you do now?