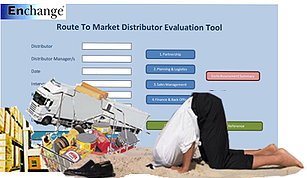 The reasons and benefits for carrying out a professional review of your Distribution network are well documented. Most of the senior people I meet understand the value of such a programme but there is a sizeable minority holding opposing views. Here, I take a brief look at the top 10 reasons why senior people in FMCG/Pharma industries are reluctant to activate an evaluation programme.
In no particular order:
Cost. Of course there is a cost to any professional evaluation but the Return On Investment (ROI) is rapid and high. If you are not enjoying your sales figures in this recession then drawing up a healthy business case ROI would be a no-brainer.
Too busy. You are probably too busy spending unnecessary management time on your existing and potentially inefficient network. Most businesses have peak and trough periods so plan well in advance and the disruption is nil!
Competitors not doing it. Isn't that the best reason to do it then? You would be surprised how many blue-chip companies have quietly carried out an RTM review and are now enjoying the benefits.
Traditional Trade (TT) not important. Possibly. If you only operate in the premium sector then you are likely to be focused on International Key Accounts (IKA). A majority of companies will have significant reliance on TT but sometimes they do not give it the attention it deserves. You can get growth from TT!
Would help competitors. Again possibly, but you can gain the first mover advantage and strengthen relationships with Distributors when they see the results for themselves. You may well find that competitors become less important to your key Distributors.
Don't need it. Very little in this world is perfect so why should your network be any different? If you are using multiple Distributors then it is highly unlikely they are all operating to the same high level.
Done it before. Good, well done but if it is now a few years ago you would benefit from looking once more. Post recession will see those companies with leaner and meaner Distributor networks taking advantage of growing economies.
Distributors cannot improve. Cannot or will not? There is a difference being unable and unwilling to do something. If you have partners who perform badly and will not buy-in to an assessment programme then you really do have to consider if they are right for you.
Will upset my sales people. Good! We often find two extremes of behaviour in Distributor-Producer relationships. Some Producer teams are frightened to upset Distributors as at the end of the day they rely on them for their bonuses. At the other end of the scale we have Producers sales people who mistreat and bully Distributors. In either case this is not a recipe for success and a "shake up" could well be what your business needs.
Will take time to see benefits. Not correct. In our experience a thorough evaluation and development of an action plan will provide immediate uplifts in sales and improvement in bottom line profit.
I rest my case.
If you are using Distributors to serve Traditional Trade you should read this E-Book if you want to increase profits! This really does work.