"Insanity: doing the same thing over and over again and expecting different results."
Albert Einstein.
I think most of us will be pleased to see the back of 2020. COVID 19 has changed the way we have had to live and work and anybody who thinks they will get their Supply Chain back to "normal" is in for a shock. Throw in an extra chaos-inducing ingredient called BREXIT and we have probably never entered a year with so many unknowns. Some businesses will not recover from 2020 and those fortunate to survive by their finger-tips must take a step back and do things differently and quickly or they too will soon be left behind. Every crisis provides opportunities but is your company ready to take that advantage?
Across the world, people will be making personal and business promises they would like to keep but few will have the staying power and resources to make sustainable change. Will you be in this situation in 2021? Will you be operating in 2022?
With this in mind, here is a Top Ten list of Supply Chain related resolutions to help your businesses improve in 2021. How many would make a difference for you?
1. Sales & Operational Planning. From personal experience I know that S&OP has kept businesses afloat in 2020. S&OP provides a process and structure that allows you to be in control as far as possible and provides data and information to enable you to ride out crises. If S&OP is in place; improve! If there is no S&OP you should try it - it works! If you are agnostic about S&OP, take a look at how S&OP helped one FMCG company turn performance around. (People who do not value S&OP are the ones that take Roquefort back to the supermarket to complain about it being mouldy.)
2. SKU Complexity. Do you really know how many SKUs you have and what is driving your SKU complexity? Almost certainly there will be more on your price list or in salesforce order taking applications than you think. Do you have more now than when you entered 2020, yet lower overall turnover? Check and act on non-profitable SKUs and ensure resources are placed behind winners. In times of crisis you need your people and facilities focussed on what provides a real return.

3. Route To Market & Distribution. You can have the slickest Supply Chain on the planet but if your Route To Market is defective, you do not stand a chance. COVID has probably accelerated the growth of Key Accounts and major chains through the rapid rise of online shopping and home deliveries. In developed markets that may erode what is left of Traditional Trade but in developing markets TT will still form a large chunk of business. Give your RTM a thorough review by studying these 20 steps to excellence and your Supply Chain will serve your business better.

4. Reduced Stock/Inventory. The stop-start nature of business is 2020 will have generated higher levels of slow moving, close to expire and expired stock. The start of the year is a great time to remove that stock which will otherwise hit the bottom line in write offs. Why not give your sales a much needed post-holiday sales boost with some unexpected and low cost marketing support using stock that will be otherwise written off? You can hide the value of this stock in all sorts of accounting lines but eventually it will bite you on the backside.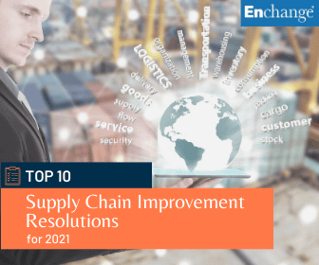 5. Total Company Buy-in. Wouldn't it be powerful if everyone in your company was aligned to the same 2021 plan and committed to act as a 100% mutually supportive team? Too much to hope for in your company at this time? If you enable such a change you will rapidly feel the difference in business results, employee motivation and retention. As a start you might like to remind colleagues (especially Sales & Marketing) what Supply Chain is all about - it's not just trucks and sheds!
6. Proactive 3PLP Partnerships. Are they meeting the agreed KPIs? Do you have KPIs as part of a set of Service Level Agreements (SLA)? If performance is not what you expect then perhaps you need to review the SLAs and revise upwards. By all means consider the possibility of in-sourcing your logistics management but be careful as increasingly the best operational resources and facilities are established within competent 3PLPs.
7. Get Wise on IT. As ever, avoid spreadsheets like the plague as they undermine your business and waste time and effort. If you have invested in an ERP like SAP or Oracle then ensure it is correctly implemented and apply transactional discipline. Is your business running on raw data or actionable information? Think about that as there is a significant difference in those terms which can be exploited through Supply Chain Analytics.

8. Customer Service Focus. Companies that value their precious clients and customers in time of crises are always more successful. You remember those that went the extra mile to deliver you a service or product - do not forget it costs a lot to develop a loyal clientele. Do you measure Customer Service as a tool for improvement rather than a stick to hit the Supply Chain? If yes, is the performance measurement 100% honest and accurate? Companies that fool themselves on Customer Service may see short term internal feel-good benefits but do not succeed in the long run.
9. Order Capture. A surprising resolution possibly, but one that is ignored in many companies as potential sales are lost or simply not visible due to IT inadequacy or defective processes. I have experienced several examples where orders placed by Key Accounts are not fulfilled 100% as the data integrity is not maintained as the order moves within the business. Inevitably, Supply Chain is blamed but please take a look at what is actually ordered and what you actually ask your 3PLP or internal logistics team to deliver.
….and finally.
10. Continuously Improve. Simply, you must. If you stand still as COVID 19 keeps a hold on the global population then it is highly likely you will be at the back of the pack or dead at the side of the road. You must keep innovating and improving your Supply Chain to maintain competitiveness and freshness.

You cannot do everything at the same time but if you choose to focus on a few of these areas you can significantly change the chance of business success by squeezing improved and sustainable value from your Supply Chain.
Go on. Make at least 1 important resolution and then just do it! You do not need to be Einstein or Nike........