I am not a fan of reality TV at all. These programmes seem to promote the worst in people and you end up with "celebrities" who actually have no talent and in most cases, fewer brains. Seeking more than their usually allotted 15 minutes of fame they behave as outrageously as possible to be noticed – don't these people have close friends to tell them the truth?
The worst version must be those talent shows where the previously never heard of "star" returns to be a judge of future celebrity wannabes. This can only result in a downwards spiral of any available real talent until you end up with an amoeba.
Keeping on theme for a moment I indulge in the kind of reality show I might actually watch and record so I can see it all over again. What if overnight the England football and rugby union teams swapped sports and played against each other? Immediately; no training, no briefing, no knowledge of the rule book and no practice matches. Suddenly they are outside of their comfort zone and doing things they are not used to doing week in-week out.
I suspect the rugby boys would fare reasonably well at football but will probably be beaten eventually. A lot would depend on the interpretation of reasonable bodily contact by the referee. Footballers – the famous ones know who they are – are known to hit the ground as the slightest breeze blows by. The balletic grace of a professional footballer theatrically diving to win a penalty would not sit very well with a rugby team where a small, tracked farm vehicle is required to make them go to ground.
What about the other way around? Now that would be fun. The sight of a huge prop forward taking out an over paid, over hyped and over groomed soccer star would be good viewing. The lesser brained variety of soccer star would spend the entire match berating the referee that "the ball has deflated to a funny shape and that someone ruffled my hair".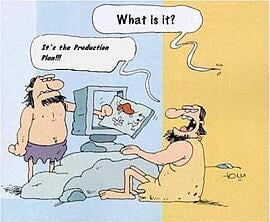 Think about the chaos in the teams and the total lack of execution quality until they picked up a little more information and experience of doing something different. Think about how your business team tries to cope with a new ERP without the necessary training, hand-holding and go-live guidance. Good people are suddenly asked to work in a different roles, different ways on different IT and usually in far more time restricted operations. You cannot postpone your business until you get this sorted out and addressing it after go-live is really far too late.
You need to ensure your ERP project includes deep planning, training and preparation of all your people plus a period of intensive care provided by an expert third party. It is critical not to let the third party leave the building until you are satisfied you can play this new game yourself. Anything less and your recovery will be very slow indeed.
I avoided naming any names but in my vision of sports reality TV who would be the England football "hooker"? So many, many candidates!