Firstly, what is Outlet Classification? It is a process of segmenting every individual outlet, meaning every point of purchase, based on a set of company specific agreed criteria that you will design, e.g. volume, location, consumer profile, footfall, opening hours, engagement opportunity etc. This will then allow you to target specific activities, resources, brands, SKU's, promotions, metrics, etc., at a specific outlet groupings level. The main benefit of Outlet Classification is the ability to target your product offerings at specific outlet groupings, regardless of who owns them or what their retail format is.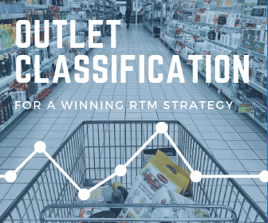 Outlet Classification must not be confused with Channel Classification. Channel Classification, which will be covered in my next post, tends to group outlets together based on format. For example, an FMCG company may service the retail outlets across a country through 4 main channels, Grocery, Convenience, Horeca and Wholesale. These 4 channels may be further split into sub channels, Convenience could be further split into Organised, Mom & Pop, etc. This is mainly based on the format of the stores and who owns them. Outlet classification focuses on specific factors pertinent to your industry and company. It allows you to become much more targeted with your service model. A specific Outlet Classification grouping could contain retail outlets from all channel classifications, but grouped together based on specific consumer profile or location criteria set by you.
Here are some examples of questions you can ask under Step 6 – Outlet Classification:
Do we know all of the outlets in our geography – including name, address, etc? If not, do we have plans to reach the total target universe?
Will we call on the points of sale ourselves?
Will our distributors call on them or will the outlets collect the product?
What percentage of outlets will we cover either directly or indirectly?
What are the criteria that we could classify our outlets under?
On which criteria can we classify using existing data we or our distributors have, and what criteria requires an outlet visit?
Should we classify and visit all outlets, or should we focus on a subset based on a certain criteria?
Do we have the skill set, coverage and resource to do this ourselves?
If not, then is the service available in my market and what are the resource requirements?
Are there options to do a phased on the job classification or is a specific focus and resource required?
Will we have a different approach to dealing with the outlets based on size, total volume, our volume, category volume, share, display, location, accessibility, consumer profile, footfall, opening hours, engagement opportunity, owner vs staff operated, shopper entry, time spent in outlet, potential growth, TM&D opportunities, credit risk, etc?
What will those different approaches be?
Do current key account agreements effect how we may classify/treat/service specific outlets?
What is the timing required to finish the classification?
What are the criteria for assigning call frequencies and resources (people, money, time) based on the classifications?
What are the training needs arising out of outlet classification?
Arguments can be made against Outlet Classification. If you are in a market entry scenario, with limited resources, with established distribution channels, you may decide that Outlet Classification at this stage would be a drain on resources. But if you are a national player looking for country wide distribution, effective Outlet Classification as part of an overall Route to Market strategy could be the difference between winning and losing in that market.
This post is part of my blog series on the 20 Steps to Route to Market Excellence model. One of the main goals of this blog series is to demystify RtM strategy and to provide FMCG leaders with a step by step guide to follow when reviewing or building their RtM plans.
The overall 20 Steps are split into 4 phases, Assessment, Strategy, Design and Implementation. This post focuses on Step 6 'Outlet Classification'. This is the first step in the Design phase and would be undertaken after a full review of your current RtM (Assessment phase), and the development of your new RtM Strategy (Strategy phase). You can read about the steps under the previous phases here.
I hope you find this useful, and I welcome any views and comments below. Next week I will cover Step 7 'Channel Classification'. Please subscribe to the blog on this page, to ensure you don't miss the latest updates on RtM excellence in execution and the 20 Steps model. If you would like to know more about the 20 Steps click here.