To recap, last week's introductory article - The 7 Essential Elements to Drive Change in your Supply Chain – considered the overall recipe for successful change. It was to understand:

Why is change needed?
What needs to change?
How will the change happen?
I then listed the 7 essential elements.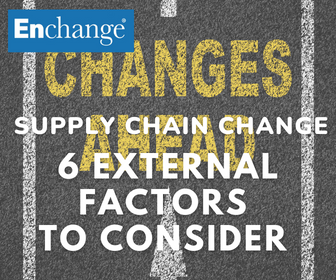 Today, I consider the first element in more detail - External assessment or analysis of the Macro Environment. (The Why from above).
The key question is this – what in the external Macro Environment (i.e. external to our organisation) has changed, or will change, to make us take stock and realise that we must also make a change in response or anticipation?
As it is external to the business, the Macro Environment usually cannot directly be influenced by organisations, certainly the vast majority of organisations.
To make sense of this, I offer the following checklist to guide your efforts. The external factors to consider are:
Political. The political environment – I include legal environment here - can fundamentally impact any business. However, it is more profound for regulated sectors such as pharmaceuticals, brewing, tobacco, to name a few. As far as supply chain change is concerned, consider possible regulatory scenarios in your sector. For example impacts on suppliers (regulatory compliance) and inventories due to dislocated supply chains driven by political decisions – yes including Brexit.
Economic. Clearly, the economy can affect any business and their supply chain. FMCG is particularly prone to economic impact due, for example, to changes in consumer disposable incomes, interest rates (for supply chain think inventory builds as an inflation hedge), exchange rates (cost of materials and inventory builds / call off strategies), employment (e.g. skills shortages for factories, warehouses, lorry drivers have all made recent headlines).
Social. An assessment on social trends will identify possible impacts on your business and supply chains. For example, the Covid 19 pandemic has by necessity driven a dramatic increase in home working for those people and businesses where it is an option. Similarly the route to market has in many sectors seen dramatic rises in e-commerce as a channel as retail outlets have been forced to close.

Technological.

Advances in technology and the rate of change will only increase. New industries will be born, others will wither and die. Similarly new supply chains will adapt and will require new suppliers, new structures, new policies and so forth. Consider, for example the impact of the Covid 19 vaccines which came to market at unprecedented speed. There have been profound supply chain impacts on factory networks needed to vaccinate the world, the challenges of cold supply chains, distribution of materials, etc. – I wrote about this last year – Covid 19 Vaccine Logistics – 3 Essentials for Success. Furthermore new technologies will totally disrupt existing sectors and supply chains – think Artificial Intelligence, Big Data, bespoke medicines made possible by gene sequencing, etc.
Environmental. It is only relatively recently that environmental issues have ascended the agendas of organisations and here supply chain considerations are foremost. It is safe to say that the vast majority of organisations, and certainly all multinationals, are realigning supply chains to reduce environmental impact and carbon footprints. Just one example that will become increasingly important is the advent of Deposit Return Schemes (DRS) for single use plastic packaging. I wrote about DRS last year – DRS is coming soon – Eleven considerations for FMCG Companies. It is on the way, FMCG folks please take note.
Demographic. Some refer to demographics as destiny. I think that this is a good way of looking at it. Populations are one of the few things that are entirely predictable in most countries in the next say 10-20 years. Current population age profiling pretty much bakes in the future. For example, Africa is a young continent. Ethiopia will be the 5th largest country in the world by 2050. Populations will decline in Europe as current birth rates are below the required rate of 2.1 per person needed to sustain any population. Furthermore, aging populations will put huge economic strains on many countries – the post war baby boomer generation are retired or about to retire and need to be supported by an ever decreasing younger workforce. All totally predictable. Businesses and supply chains should plan the required changes accordingly.
…. and that gives us a useful acronym – P.E.S.T.E.D - acronyms make it easier. There are several versions of this acronym including PESTLE, PEST, DESTEP depending on what you prefer.
Corporate and sector trends, nearly always driven by the above should also be considered here.
In terms of where to start with your external review, I suggest with a SWOT Analysis. The Opportunities and Threats of a SWOT consider external factors.
Sense check. You may be thinking that the above is a bit over the top for any change in your supply chain (or route to market). The answer entirely depends on the type of supply chain change that you are contemplating. If it is a significant and profound change, likely to last for a number of years, you absolutely do need to consider the above. However, if it is a simple change – e.g. the structure of your Supply Chain Planning Team, the answer is almost certainly not.
To reiterate a point I made last week, meaningful change can happen very quickly … if these elements are considered and acted upon. How quickly? You can implement a simple and largely effective S&OP process in under 3 months. Furthermore, as a reminder, if change doesn't happen quickly, people soon lose interest.
Next week I will consider the second element – the Internal Analysis.
If you need any help on any supply chain issues, please reach out to me directly.