Increasingly in my discussions with clients, the subject of single use plastic packaging comes up.
Why? The answer is DRS.
The Deposit Return Scheme (DRS) will arrive in your market soon. If you are a FMCG company, it will have a profound impact on your business.
The good news is that FMCG companies have an opportunity to prepare and use DRS as a future source of competitive advantage.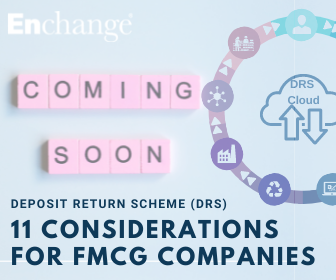 Here are some of the issues that you should be considering now.
1. DRS Strategy
Always a good place to start. Questions to address include:
How can we shape DRS to best suit our organisation?
Where is potential for competitive advantage as a result of DRS?
What are the likely DRS timings regarding our local market?
When our market introduces legislation for DR, it will likely base this on some type of 'DRS Operating Model'. To what extent can we influence this Operating model before it is fixed in law?
2. Commercial & Route to Market (RtM)
External – what will be the impact on the role of our Distributors including with respect to their capability. What will be the role of retailer and how we can help. To what extent could this be an opportunity for us to 'Own the Point of Sale'?
Internal – What will be the impact on Trade Marketing, Distributions, Sales Roles (Reps, Managers), Revenue Management (Customer, Brand, Pack, Channel, Region, etc.), RtM Service Mapping?
3. Supply Chain
DRS will in effect be a new Supply Chain.
What will be the impact on Demand, Planning (Demand, Supply), Procurement, Logistics (Warehousing, Footprint, Transportation), our third parties (e.g. 3PLs, 4PLs)
4. Marketing & Portfolio
There will be a profound impact on our product portfolio. This is of course the point of DRS.
What will be the impact on current portfolio, likely new portfolio?
What is the potential for packaging redesign?
What SKUs will be impacted?
What will be the impact on Branding?
How will this impact our new relationship with our consumers, messaging, promotion, etc?
5. Manufacturing
We will need to align manufacturing to support our new portfolio.
What will be the impacts of our refined product range and packaging requirements on equipment, retooling, capacities, etc?
6. Finance
What will be the impacts P&L, Balance Sheet, Cash, Capex, Opex, Total Cost to Serve
7. Digital, IT and Systems
This is also another high impact area.
Consider the probable need for external data exchange, bar coding or similar.
Internal systems impact will include Master Data, ERP and Planning Systems alignment.
This is also a high potential opportunity – e.g. DRS will likely require multiple data capture points. Thus consideration should be given to the potential huge benefits to our organisation from this data.
8. Legal & Corporate Affairs
A lot to consider including:
Stakeholder Mapping to define impacts and actions.
External relationship management to consider including Public Messaging Engagement, etc.
What are our resulting legal obligations?
9. Human Resources
There will be implications aplenty including:
Change Management
Communications (External & Internal)
Resource implications including New Hires
Training & Development – new needs and delivery.
10. Other Producers
We are not the only ones impacted of course.
Map possible organisation vulnerabilities with respect to competitors.
Define potential opportunities for non-competing partnerships to influence the 'DRS Operating Model' in your market.
11. New 3rd Parties Relationships
It will need to be developed including:
Reverse Logistics Service providers
Counting / Clearing Houses
Recyclers
Data integrators.
I would be interested in any comments that fellow professionals may have.