The Enchange Supply Chain House is a simple and easy to understand reference model providing a clearly defined and proven understanding of your supply chain status and future potential.
The Supply Chain House shows the components of your supply chain in the form of rooms of a domestic building. Your supply chain may require a completely new build or new room constructed while others may need only minor adjustments to match aspirations. From Raw Material to Consumer, the house tells you what is required to develop the supply chain which is right for you.
Over the last couple of months we have explored every room in the Supply Chain House in a series of overview articles. Before we delve even deeper into the detail of each room, all 8 of the Supply Chain Excellence overview articles are listed here in this summary paper.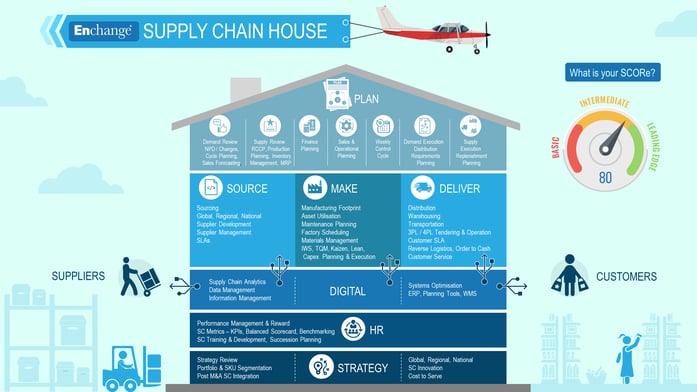 The 7 Building Blocks of FMCG Supply Chain Excellence.
The Enchange Supply Chain House – introduces the new approach to supply chain thinking and design. A plain and simple guide for FMCG leaders.
Source – understand the differences between call-off, buying and procurement. Do you extract full value from relationships?
Plan – present across the supply chain and relevant to every room in the house. Do you operate Sales & Operational Planning?
Make – taking maximum advantage of your investment in manufacturing assets. How do you make those assets sweat?
Deliver - more than just trucks and sheds. The important last leg of the journey to a completed sale.
Digital – becoming increasingly more important for that supply chain competitive edge. Any desire for supply chain excellence must include a digital strategy.
HR/People – nothing works without them. How do you manage, motivate and remunerate your supply chain people?
Strategy – makes building blocks 1-6 irrelevant if you do not know where you are heading. You will be investing heavily in your supply chain so do not waste this money.
Seven building blocks towards a supply chain which will give your company a competitive edge - from raw material to consumer.
In subsequent articles we will look in more detail at the specifics you need in each room to achieve FMCG Supply Chain excellence in support of your Route to Market deployment. The first in-depth discussion will focus on the all-encompassing Planning function.
Read more articles on Supply Chain Excellence on our website where you can also subscribe to our updates.
Finally, feel free to use any of our contact routes including Live Chat, if you have any questions about how the Enchange Supply Chain House can assist your journey to supply chain excellence.