Welcome to the HR or people edition of our FMCG supply chain guide. The related Source, Plan, Make, Deliver & Digital overview articles can be found here. Each discipline is a key room in the Enchange Supply Chain House which provides a guide to your supply chain improvement journey. Although time and labour saving digital technology is on the rise, without people, nothing works very well in a supply chain.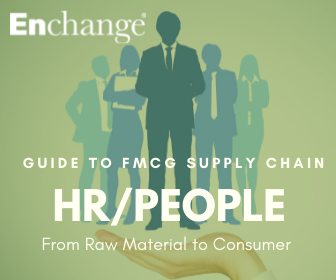 When I started work in the UK, people were recruited and looked after by the Personnel Department. Years later this morphed into the Human Resources department which is my least favourite description of what refers simply to people. "Resources" suggests humans are a commodity raw material which are there to be used for business purposes as others see fit. I am not suggesting this is the reality, not at all, but it is the word "resources" which I find inappropriate. (Don't get me started on Human Capital!)
Anyway, to the task in hand. What definitions can be found for HR/Human Resources?
Human Resources. The groups of people who make up the workforce of a team, department or company.
Human Resources. The department responsible for finding, filtering, recruiting employment applications as well as administering employee training, appraisal and remuneration.
Simple words for the most important part of any supply chain or business for that matter. Without carefully selected, trained, constantly motivated and fairly remunerated people, business success will be a dream that quickly turns into a recurring nightmare.
HR in the Enchange Supply Chain House
Let us look at some of the important HR elements you must consider for a motivated and ultimately successful, supply chain operation.
Performance Management and Reward
Reward should be based on skills and performance and above all else, must be fair and consistent across the supply chain. Organisations where reward is linked to longevity, favouritism and even nepotism are doomed to failure. Is performance measured in your company? Does the reward system promote continuous improvement, team working and employee engagement?
Supply Chain Metric KPIs
If you do not measure then you do not improve, simple. Key Performance Indicators (KPIs) are metrics used to monitor the performance of your supply chain processes and the people who manage them. You can be overwhelmed by too many measurements so it is important to select those that really define how well your people are performing. Which KPIs do you measure? Do they cover the entire supply chain? Are some KPIs cross-functional?
Balanced Scorecard
Every supply chain day brings new streams of new data, information and actions for people to handle. In isolation, KPIs from the various departments can be difficult to assimilate into a coherent understanding of what is happening – good or bad – in the supply chain. A balanced scorecard is a simple management tool which monitors performance of a supply chain or a wider business. Are all of your activities and initiatives aligned in support of common goals? Do you get lost in data? Do you rely on verbal updates on performance?
Benchmarking
You cannot stand still if you want to win. HR must keep a close eye on competitors of similar size and in the same operating sector to ensure competitiveness in people quality, remuneration and practices. If your standards drop compared to competitors then you will lose people and the winning mentality which is critical for success. How does your remuneration policy compare? Are you losing good people? How often do you benchmark? What is your staff turnover rate?
SC Training and Development
"Train people well enough so they can leave, treat them well enough so they don't want to" – Sir Richard Branson. Skills training and personal development must be a priority for your supply chain as the market never stands still and neither do ways of working or technology. You must continually enhance the knowledge and skills of employees to enable them to perform to the best of their ability. Do you have an annual training plan budgeted and embedded in the annual planning process? Do you promote external training, e.g. APICS?
Succession Planning
The days of people having one long career with a single company are largely over as employees are ever more mobile and able to enjoy a number of different challenges. Succession planning for at least your vital middle and upper management roles is important as people move on to new jobs, pause for babies or retire. Do you know your most critical roles/people who may be hard to replace? Who would take over in the event of sudden departure? Do you consider internal and external succession planning?
In subsequent articles we will look in more detail at the specifics you need in place to support and fuel the extended supply chain and your Route to Market deployment.
Read all of the posts in my series on the Supply Chain Excellence page of our blog where you can also subscribe to our updates.