The Enchange Supply Chain House; the one-stop shop for the elements you need to achieve supply chain excellence.
In previous articles we have looked at each element of the Enchange Supply Chain House in some detail.
Source – supplying the necessary materials and services for the supply chain.
Plan – possibly the most important function as planning affects every department. This article series also includes a deep-dive into what is required for a storming S&OP process.
Make – converting the RM/PM into finished goods for sale.
Deliver – the final and very important step before you can collect cash from clients.
Digital – increasingly important in our changing world but you must get the basics right.
HR – sustaining and motivating the humans who run the extended supply chain.
Strategy – what you want to achieve and how you plan to work towards success.
These articles and others you can find in the Enchange Supply Chain library will guide you on what you need for your particular situation. However, the first step on your journey to supply chain excellence should be to answer these 2 questions:
How well is your supply chain currently performing compared to your competitors and international best proven practice?


Where are the weaknesses in your supply chain as it progresses from raw material to the consumer?
In order to start on your supply chain excellence journey you would benefit from a Supply Chain Diagnostic process that assesses supply chain performance to quickly:

Assess current supply chain performance
Recommend specific improvements
Develop an Action Plan to deliver the improvements, and
Produce a Business Case to support the Plan
Supply Chain Diagnostic
A Supply Chain Diagnostic assesses the components of your own Supply Chain House against the following outline performance and maturity categories:
Basic
At Operating Company level, there is likely to be a functional organisation in place that supports primary and secondary supply chain processes with a limited degree of effectiveness. Some supply chain processes, procedures, measures or controls may be rudimentary or even absent.
Limitations: Because the organisation takes a departmental silo view, functions may become independently efficient whilst not improving the overall efficiency of the supply chain.
Intermediate Low
At Operating Company level, a supply chain organisation is likely to be in place and generally effective in supporting efficient and measured primary and secondary supply chain processes.
Limitations: Because a supply chain network consists of multiple disciplines, maximising the performance of organisations in isolation will suffer similar problems as at Basic Level, albeit at an overall higher level of performance.
Intermediate High
The Operating Company will have an integrated supply chain with seamless and effective key processes and data/information flow amongst the majority of Source, Plan, Make and Deliver partners. Additionally, an area or regional supply chain organisation may be in place and effective in supporting efficient and measured processes across many end markets at overall identifiable lowest cost.
Limitations: At this level of maturity the positives outweigh the negatives but effort will be required to ensure the various functions remain integrated and with overall supply chain performance as a priority.
Leading Edge
Here, the supply chain 'Raw Material to Consumer' is considered as one seamless process, made up of various sub processes which may or may not be owned and under the control of the operating company but where all strategic partners in the process participate in collaborative long-term planning. Full disclosure of information allows for realisation of savings and efficiencies for the benefit of all participants in the chain.
Limitations: At Leading Edge performance the only negative considerations are the cost and time to reach this standard plus the effort required to maintain excellence.
Typical Deliverables of Supply Chain Diagnostics
The assessment categories can be a standard set or a selection defined by the Supply Chain House approach.
The categories for assessment should be broadly based across the supply chain or focussed on areas of potential weakness, e.g. Planning. The assessment categories mirror the four above where you are striving for green and trying to avoid red.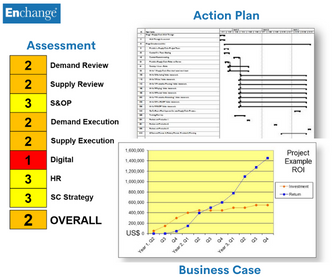 Timing
There is never a good time to assess the supply chain and start to make necessary adjustments. Nevertheless, the time to assess your supply chain is NOW as it is not going to improve without intervention. You need to understand the areas of weakness and schedule the improvements around ongoing operations. If you operate a seasonal business, change can be scheduled outside of peak periods. Change in more linear businesses presents a challenge but with the right guidance you can make lasting change under any conditions.
Once a Supply Chain Diagnostic is complete and priorities are understood, you can usually start making lasting change to your business within a number of weeks. Your journey to Supply Chain Excellence has begun.
Read more articles on Supply Chain Excellence and Route To Market on our website where you can also subscribe to our frequent updates.
Finally, feel free to use any of our contact routes including Live Chat, if you have any questions about how the Enchange Supply Chain House can assist your journey to supply chain excellence.