Last month I spent a few weeks enjoying the UK weather disaster as 10mm of snow brought life to a halt. While there I moved the heiress into her new apartment - not a flat now as student days are over, very posh. Hopefully, that will be the last time I have to manage boxes down a narrow and winding staircase and my glass back can get a much needed rest.
Job done, I made my way back to base with an unpleasant 15 hour delay on BlueAir but at least there was no jobsworth amongst the crew. Despite the weather I continued my minimalist approach to clothing to ease my way through the various security screenings. I wore no belt, no watch, no metal at all in an attempt to glide through the checks without being patted, prodded or made to make a second pass through the metal detector. Unfortunately, my innocent pack of UNO playing cards looks like plastic explosive, apparently.
The end of the world was in progress on arrival back in Bucharest. Heavy dark and angry clouds were dispensing precipitation by the bucket load and it was relentless. The sleet quickly soaked my UK grade Arctic coat and everything underneath including socks. Futile attempts at shelter included the held-aloft flat newspaper and the rather dangerous shopping bag with eye holes over the head. Even the all in one little black bin bag number a girl was wearing (or was it a dress?) was ineffective in diverting any of the torrential downpour. This was a real storm without escape where complete saturation was guaranteed and inevitable.
I felt rather like an FMCG CEO. Saturated by data that people believe he/she needs to see in order to run the business. Not actionable information but raw data. Completely submersed in meaningless numbers and perceived trends. Often, that data is aimed at passing the buck to other departments for failure or lack of success or to ensure backside protection during the post-mortem that takes place long after the month or quarter or whatever period has closed.
Even if you do not run a swish ERP you need to be able to address in-market issues while you still have a chance of making a difference. However, to do that you need to receive information which quickly converts to relevant knowledge and then facilitates actions. To actually see the reality of market performance you don't need masses of numbers, you need facts.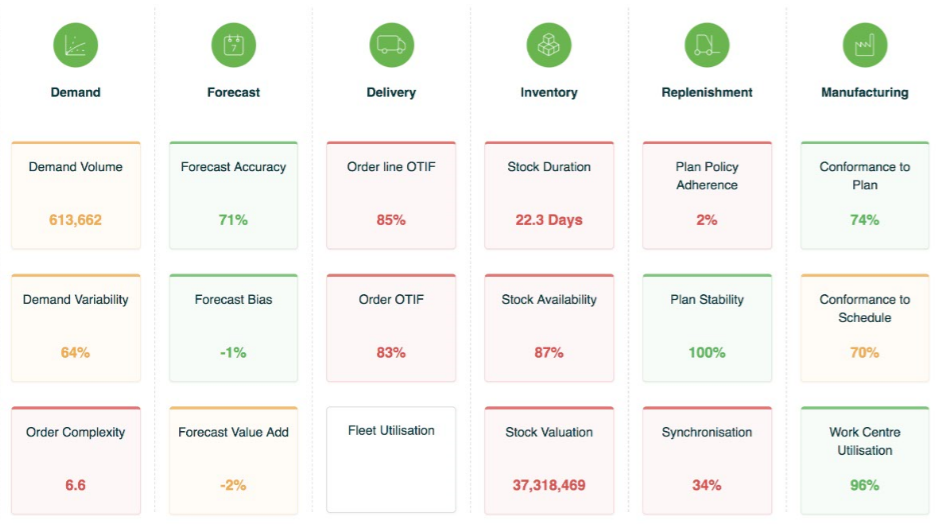 If you don't have a KPI or Balanced Scorecard then sort one out quickly. If you already monitor performance in this way then take a long hard look at what is actually being reported; is it for the benefit of the reporting colleague/department or for the benefit of the entire company?
Remember that KPIs never tell the full story. When a KPI refuses to improve despite all efforts it may well be due to the impact of another completely different and apparently unrelated measure. In such cases you should adopt a Supply Chain Analytics Approach to deep dive into the detail and really see what is happening all along your Supply Chain.
Image courtesy of SupplyVue at Concentra