This has not been a great week for customer service and from some very well known companies. People say things happen in threes and this week I have had 3 unexpectedly poor customer service experiences. Disappointment and irritation is always greater when you are treated badly by someone from whom you usually receive good service. Suddenly you start to wonder if all that brand trust and loyalty was all for nothing. In this blog I describe just one example of poor customer service.
I use KLM a lot as flying into Birmingham to see the heiress is far more convenient than battling through Heathrow and then the motorway traffic. In addition, Schipol is reasonably passenger friendly and has not lost a bag of mine, yet. The Amsterdam – Birmingham flight is usually on a fairly small aeroplane and the journey is less than an hour so really not much time to experience any service, good or bad. Not this time!
KLM has decided to adopt some of the policies of low cost airlines and one example is charging for the extra leg room seats in the emergency rows. Fair enough, if you are jolly tall then why not fork out for a comfortable seat?
I did not know at the time but the baggage lockers above emergency row 11 on this particular plane are reserved for row 11 purchasers and this is denoted by a sticker on the door that you can see only when the locker is closed. With the plane being fairly full and all the lockers open I tried to put my modest bag in the row 11 locker. A very officious male attendant then said rather rudely "can't you read?"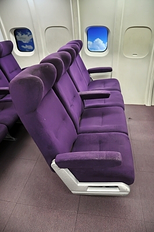 Ever since I saw Lilly Savage use this put-down line I have been waiting to use it at the right moment and this was the time. With deep respect for the vast majority of hard-working airline staff that are pleasant, intelligent and look after us on flights, I replied "Yes, that's why I'm not serving tea on a plane".
Ok, maybe a little harsh but I was one of the last to board and all 6 seats in the row were empty. Mr. Jobsworth insisted myself and nearby passengers could not use the locker; wait for it, even after the plane was airborne! What did he expect? Were more passengers going to board the flight? With the exception of a really slight chance of 6 on-board births in 45 minutes there was no reason to keep paying customers cramped with bags at feet while space was available.
I hope KLM does not go too far down the low cost route or KLM will soon stand for "Kinda Like Michael" as in the infamous owner of Ryanair. You worked hard to attract your customers so it makes sense to keep them tighty held.
I am due to fly KLM again soon and will take some time to brush up on my reading skills.
Image couresy of phanlop88 at freedigitalphotos.netfreedigitalphotos.net