I took a look at how technology has changed the way Supply Chains work in a previous blog. During my recent trip to foreign parts – yes, Birkenhead and most of UK is foreign to me now – I saw modern technology in action like I have never seen before and this had me worried.
The setting is a small, cosy, Italian restaurant – no, not the one where I experienced the Pot Noodle Pasta Palaver. The tables were arranged in orderly lines and the majority taken by couples sitting opposite each other. I guessed that some were unmarried as they had a certain air about them. Others had obviously been through the pain and pleasure of children while at this late stage of the evening there were no couples with children of any age so it was quite a romantic and relaxed atmosphere. Yes, I know I was in Birkenhead but still…
Did some of the younger males have something life changing to say to their prospective partners? Was it that the flickering candle reflecting off the remains of the minestrone soup made her eyes sparkle? Was he about to compliment her on having skin like finely mixed gnocchi? Or perhaps it was the big request to enter into debt sharing marital arrangement where possibly, they were raising the subject of one of those horrible pre-nuptial agreements where "till death us do part" couples decide who gets what WHEN they split.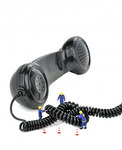 Being people watchers we noticed that after each course was cleared away both partners at each table – not ours before you assume - immediately picked up their mobile devices and started tapping and finger-flicking away. Loading an image of a perfect dish onto Facebook and changing the status to "bloated"? Announcing to the world of an eagerly awaited or even unexpected engagement?
Although the number of people who knew life before mobile telephones reduces daily do you remember what it was like? During or after a pleasant dinner we would talk to each other or at least argue about something. Now it is silence punctuated by depressing button depressing.
A different country now, but I saw the same in a well known FMCG company this week. Rows of desks bristling with technology of all kinds including landline telephones – do they still count as technology? Anyway, many of the bright young things in this office were talking on mobile telephones to colleagues in the same office. Now, perhaps they have a telecoms deal that makes this free of charge within their corporate network but what effect does this have on business?
Working from home, hot-desk office policies and video conferencing quality have all played their part in reducing face to face touching distance interaction and meetings. When Blue Peter's Shep was a pup you often never saw your colleagues in other offices or far flung locations. Now I am sure some people in the same office never see each other face to face!
I thought technology was supposed to ease and improve communication not get in the way. Face to face always wins in my book. Try taking your wife out for dinner and sitting in different restaurants. Where did I put that pre-nup?

Image courtesy of Grant Cochrane at freedigitalphotos.net