In a recent post I took a look at how technology has changed over a relatively short time and how it is used in supply chains. For example, the cutting edge fax machine of the 1970's is now joining the VHS and cassette tape players in the sad and lengthy queue to darkness and obsolescence.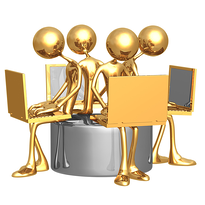 Communication is so easy these days, isn't it? You can speak to colleagues by mobile phone anytime, anyplace anywhere and soon, even while they are on a plane. If you do not want to speak you can send an instant text message from your laptop or tablet or smart phone. If you are slightly old fashioned you may actually sit down and type an email into a qwerty keyboard.
Those with fast fingers can tap out text messages by sms which only those in the know can understand, eg "ur 4cst acc is SAL, lol!
All this information and speech is criss-crossing the planet in milliseconds bringing (sometimes) important information to our ears and fingertips. Huge IT files that previously required faxing or even posting can now be seen in real time in virtual meetings with attendees from all corners of the earth.
One thing that has not changed is that celebrity scandal and bad news travel far faster than anything of any use or good irrespective of the technology of the day. When your FMCG factory has achieved 98% operational efficiency you might get a few lines in the company newspaper. When the factory has a break down and supply is delayed that news will be around the Sales and Marketing office faster than the plague!
So in this technological age why is it so hard for people to communicate over something relatively simple like Sales & Operational Planning (S&OP). Colleagues in the same offices will hide behind carefully crafted bottom-protecting emails rather than address the problem directly. "I sent you an email" is fast becoming the stock half-hearted excuse for failing to pass on information in time.
Just a thought. Next time you have some information that needs to be shared quickly as it will otherwise have an impact on sales or supply why not leave the cushioned comfort of your Ikea Splatt chair and go and have a conversation face to face? No technology, no arthritic thumbs from texting, no delivered/read receipt safely stored to be used as "evidence" later.
A good old conversation; how about that for an innovation?
Yes, it might be a difficult discussion but without a doubt honesty and openness is the best policy if you really want you and the company to succeed.
Y nt try b4 its 2 l8?
Check out these posts: