All major companies run some sort of ERP to support their business whether they are FMCG, pharma, brewing or indeed anyone who "makes stuff". Many blue-chips have invested in big name software packages while others have gone for a cheap and cheerful locally built product. The big name offering is not always the most user friendly solution but then the made-to-measure option also has drawbacks, usually support and lack of flexibility. Anyway, getting to the point….
A discussion this week on supply chain planning had me thinking about how planning used to be done, Yes, ok go on, cue Mary Hopkin singing Those Were The Days – all young things should look it up on YouTube.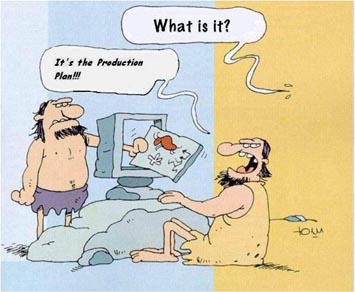 I guess at some stage before type-writers the planning process must have been largely verbal with some lowly paid scribe scratching away with a quill on paper taking down orders from salesmen. Manual addition would follow until a demand for raw and packaging materials was derived. After typing on corporate headed paper and receiving the company seal the various orders would be sealed in envelopes and posted. What sort of lead time would that process have offered? What on earth happened if there was to be a change or there was an error in the writing or – just a possibility – the sales department got the forecast wrong?
Typewriters will have improved the process a little but reliance on post would be the norm until the possibility of Telex popped up. This was still heavily reliant on manual intervention and of course the planning process itself remained rudimentary and paper based.
Communications eased with the arrival of the fax machine. At least now the lead time between order issue and receipt was a matter of minutes and changes could be made without waiting for the postman to call. Different departments could exchange information as long as a telephone line was available. Still, the task of finding and collating data would remain in the relative dark ages despite the arrival of table-sized calculators.
The computer arrives and provides a massive step forward. Now there was a bit of IT to support the number crunching process and make the order process far slicker. Software to take account of history, market activities and launches facilitated business forecasting – not necessarily more accuracy, however.
Move ahead only a few more years and we have suppliers, producers and customers fully integrated with common IT, processes and data. Collaborative planning gets partners proactively working together for a common goal rather than being defensive and protective of their individual silos. Producers can see when a consumer buys their product at what time in which store and at what price – they probably know their names via the loyalty card scheme too! Salesmen know when shelves are empty and can send orders in real time from hand-held devices.
Technological innovation has brought planning a long way since the 1800's and there is undoubtedly more to come. I wonder what is next. So, while you tap away at your ERP interface spare a thought for how planning was carried out at times when a PC was a London Bobby, having a Wii in your living room was unacceptable and an iPad was still just a typing error. Start singing Mary.