The focus of this article is on indirect distribution. Previously, I have discussed how to achieve Route to Market (RtM) Excellence by effectively using the different types of distribution, our DIME approach, and specifically Direct and Indirect distribution models in the Fast Moving Consumer Goods / Consumer Packaged Goods environment.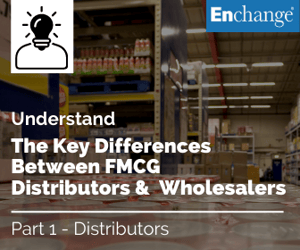 I now want to discuss the differences between Distributors and Wholesalers, as this is a question that we at Enchange, are often asked. The RtM challenge is that many FMCG Co.'s view or treat Distributors and Wholesalers the same way. In this article I will focus on Distributors.
At a top line level, I can see why many organisations end up putting Distributors and Wholesalers in the same box of Distributor management. Essentially, they both take consumer goods and move them further into the supply chain, either on to a retailer or other customer.
But the difference can be quite significant, and how an organisation treats and manages them, is even more critical in terms of volume and share growth.
Let us look at some of the individual Characteristics of Distributors:
Agreements
There is usually a legal agreement in place between FMCG Co. and the distributor(s).
In many cases the distributor staff can be viewed by the FMCG Co. as their own staff.
This may lead to specific agreements on training, reporting, targeting, renumeration, incentives, trade tool kits, etc.
Exclusivity
Distributors may be exclusive and work for only one FMCG Co.
Distributors may work for more than one FMCG Co., but perhaps not in the same sector.
Management
The distributor will require specific management, in relation to the agreement made.
Distributor management is a specific FMCG Co. role that requires skills and experience.
A single distributor may be managed by a team from the FMCG Co.
FMCG Co.'s will often conduct detailed Distributor Assessments to determine distributor selection, identify areas for distributor improvement that can also enable lasting distributor partnerships.
The Distributor/FMCG Co. relationship tends to be based more on the long term.
Territories
In many countries, distributors tend to be assigned a specific geography, territory, region, or country.
In a multi-distributor model, and in most countries FMCG Co.'s usually wish to assign territories to each distributor.
Brand Range & SKU's
The brands and SKUs stocked and supported by the distributor, usually form a key part of the relationship, and tend to be explicitly negotiated.
Distributors usually stock all brands and SKU's, even those with a lower rate of sale.
Remuneration
Margins, fees, promotions, and pricing tends to be negotiated as part of the overall agreement.
Distributor renumeration can be based on margin, volume, or the specific logistics function they perform.
Distributors may take ownership of the product, or not, depending on the agreement.
Operations
Distributors tend also to be in the logistics business, operating one or multiple warehouses/depots, with associated trucks to push product into the supply chain.
Distributors usually visit their customers, not the other way around.
Distributor customer visits, customer classifications, call frequency, trade marketing activities, etc. tend to be agreed in conjunction with the FMCG Co.
Distributors tend to be reliant on the FMCG Co., who is often a significant part of their turnover.
The above are not hard and fast rules, but they do provide guidance. In Part 2 of this series I will focus on the Characteristics of Wholesalers, and then in Part 3 I will look at the 10 Key Focus Areas for Effective FMCG Distributor & Wholesale Management.
Distributors and Wholesalers can, and often must, exist together in the marketplace. How your Route to Market strategy deals with this situation, can often be the difference between RtM Excellence and a missed opportunity. If you need help or flexible resources, please reach out to me directly.