The Enchange Supply Chain House; the one-stop shop for the elements you need to achieve supply chain excellence.
In successful FMCG companies, Sales & Operational Planning (S&OP) is the flexible glue that holds your processes together, ensuring demand and supply are balanced along the chain and most importantly, sees everyone operate to the same set of unambiguous sales, volume and financial numbers.
One of the myths of S&OP is that this process generates extra work. No. A correctly implemented process enables people to work smarter, ignoring non-value adding, repetitive and unnecessary tasks. The amount of work does not increase but the efficiency of people and their work satisfaction certainly improves.
We have all been in meetings where we have lost the will to live so it is important the S&OP meetings are professionally organised, designed and managed.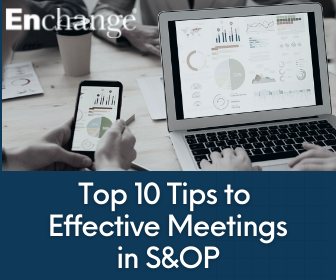 Top 10 Tips to Effective Meetings in S&OP
1. Calendar, Agendas & Minutes. Are the S&OP meetings fixed in diaries in advance and preferably for 12 months ahead? Are the agendas standardised for each S&OP meeting? Are simple and concise minutes noted and rapidly circulated?
2. Meeting Structures. Are the participants and their deputies clearly defined? Are the meeting objectives, inputs, outputs, key decisions and KPIs defined and always addressed by default?
3. Data & Information. Do participants understand the difference between data and information? Is all data processed and information prepared in advance of the meetings?
4. Key Inputs. Does each meeting provide all of the required key inputs and recommendations for colleagues? Is the discussion and debate focussed on providing concise and accurate information for use in the formal Executive S&OP meeting?
5. Executive S&OP Meeting. In addition to the Demand, Supply and Financial Reviews, is there a formal Executive S&OP meeting each month led by the General Manager, CEO or business leader? Is this meeting seen as a critical part of doing business by the leadership team?
6. Time Horizons. Does the Exec S&OP meeting focus on time horizons well beyond the current month and on the key tactical and strategic issues? (Supporting meetings in the process might have a shorter time horizon and a focus on more operational and current tactical issues.)
7. Meeting Protocols. Are the S&OP meetings proactively managed and focussed on exceptions? Does the monthly process focus on variations from the previous month, exceptions, issues and deviations from plan/strategy?
8. Investment & Innovation. Is the Innovation Funnel a key part of S&OP? Where trade-off decisions relate to capacity investment, is there meeting consensus on the plans for volume success/growth? Is there a rigorous review to avoid investing in unnecessary capacity in the supply chain?
9. Action Plans. Are action plans issued for each meeting with names allocated to each? Do the plans include agreement to the innovation plan and the investment required to deliver the plan? If these action plans include non-core S&OP attendees, are these formally recorded and cascaded?
10. Continuous Improvement. Do meeting discussions consider and review prior learnings and include a review of key decisions related to all projects supporting the strategic plan? Is there a culture of continuous improvement cascaded from the Exec S&OP meeting?
An absent or imperfect S&OP process will mean time and money is being wasted in prolonged, unfocussed and unnecessary meetings. Disciplined preparation for each meeting, committed attendance and relevant debate from all contributors will lead to numerous business benefits, e.g. sales, costs, stocks and employee satisfaction. Think how powerful it will be when employees are aligned to one plan and that they see the positive outcomes of their collective decisions.
These Top 10 Tips provide the basis for successful S&OP meetings and a much brighter business.
Read more articles on Supply Chain Excellence and Route To Market on our website where you can also subscribe to our frequent updates.
Finally, feel free to use any of our contact routes including Live Chat, if you have any questions about how the Enchange Supply Chain House can assist your journey to supply chain excellence.