The Enchange Supply Chain House; the one-stop shop for all of the elements you need to achieve supply chain excellence.
In successful FMCG companies, Sales & Operational Planning (S&OP) is the flexible glue that holds processes together, ensuring demand and supply are balanced along the chain and most importantly, sees everyone operate to the same set of unambiguous sales, volume and financial numbers.
In the last article we looked at the Top 10 Tips for efficient meetings in S&OP. Those meetings may well be perfectly organised and structured but participant/leadership behaviour, culture and a lack of understanding can derail even the best S&OP process. You can avoid this.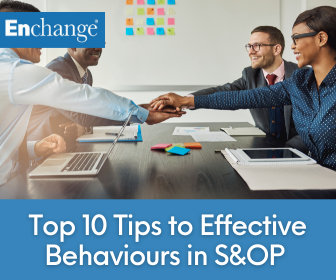 Top 10 Tips to Effective Behaviours in S&OP
1. Embedded Structure. Does the S&OP process allow for and deliver clear accountabilities, roles and responsibilities that have been formally embedded in the organisational structure and culture? Are these items reviewed as the S&OP process matures and develops?
2. Management Commitment. Does the management team view the S&OP process as an integral part of the business and a key enabler of market success? Are the S&OP meetings and processes perceived to be efficient and value adding?
3. Strategic Thinking. Are the participants aware that they are not just 'going through the motions' but leading the process of setting the strategic direction for the business? Do they understand this empowerment?
4. Priorities. Does management use the S&OP process as the prime tool in establishing business-wide priorities? Is there an 'under the radar' or top down process which defines priorities outside of S&OP?
5. Participation. Are the meeting participants encouraged to contribute open communication and participation irrespective of their seniority in the business? Are the participants the right people/roles and from the right departments to get business done?
6. Scope. Do participants have a clear understanding of what can be resolved in the meetings and what must be escalated to the Executive S&OP meeting for approval? Are the purposes of the meetings clearly defined and delineated in terms of scope?
7. Accountability. Do the S&OP processes and participants understand they are accountable for the ultimate approval for market performance, new product introduction, portfolio strategies and capital expenditure up to agreed limits?
8. Decision Making. Are key participant behaviours centred around consensus decision making relating to capex, sourcing, financial gap closing and performance improvement plans? Do participants reach decisions in reasonable time or is procrastination apparent?
9. Senior Team Buy-in. Is there real, visible executive and leadership team involvement across the business to support and promote the importance and development of S&OP processes and procedures? Is this genuine and not simply box ticking for head office eyes?
10. Success. Is S&OP considered the only integrated business planning process that delivers results? Is S&OP success visibly and widely celebrated at all levels? Are failures and errors turned into opportunities?
Considering the final 2 tips; you will not have a chance of achieving number 10 if senior team buy-in is anything less than 100%. Number 10 always follows 9 in this instance and it is never the other way around.
Read more articles on Supply Chain Excellence and Route To Market on our website where you can also subscribe to our frequent updates.
Finally, feel free to use any of our contact routes including Live Chat, if you have any questions about how the Enchange Supply Chain House can assist your journey to supply chain excellence.