Over the years I have seen many strange sights on various forms of transport. In the Middle East I sat next to a vicious looking falcon on a flight to Bahrain. The falcon was extremely well behaved but then again so was I! In Africa a guy jumped on a tuk-tuk carrying a pig that had ceased to be.
Only last week in Bucuresti a lady brought a goat onto the underground. I guess it could have been a service goat or something similar as guide dogs are still a rarity in Romania. In fact, a guide goat could have some advantages over a dog as it is has its own built-in horn……Also, I wonder if she had to pay to take the goat on board and if so, was it half price for kids?
Whenever you see something dramatic, unusual or out of context you tend to remember that incident or time. People older than myself remember where they where when Kennedy was assassinated. In more recent history I know where I was when Princess Diana died. Only a couple of years ago I remember exactly where I was when I heard the UK had voted to leave the EU. Despite living in an EU country, I and many others where not allowed to vote.
Nobody knew at that time what would happen if UK left the EU – what a basis for a referendum - and that is still the case today although at least the exit remains certain. What will happen to customs tariffs, will UK citizens require visas to reach the sun, will the EU allow right hand drive cars on their road networks? Still nobody knows, and I don't think anyone will until long after exit happens. However, I will predict a united Ireland, a devolved Scotland (less possibly Wales) and little England in an old tweed suit towing a ferret going cap in hand to join the EU!
Politics and Supply Chain are not common text fellows but in terms of predicting the future they have the same challenges. Hopefully, you make the best decision you can based on the information available and yet you know there is a high probability of getting the outcome completely wrong. If you want to reduce that probability of failure, then you need something over and above your standard ERP IT software.
In the last 10 years, despite investments in sophisticated ERP systems, there are still significant opportunities to improve supply chain performance. Why?
Often complex IT packages automate traditional ways of working which results in little improvement or, things are made worse with increased stress in the planning process.
The forecast is often blamed – it will never be 100% correct. The issue lies within the supply chain processes, the set-up of the IT and how existing tools are being used.
Managing this complexity becomes the real challenge, and to protect themselves, supply chain managers buffer supply chains with cautionary inventory and fat lead-times.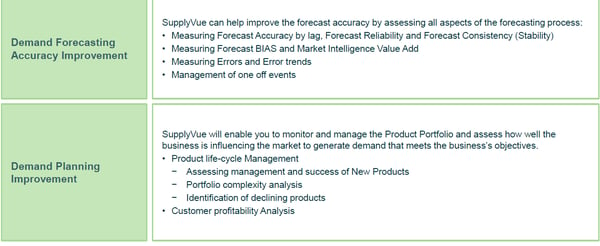 Business planning that puts backside protection as a key priority is destined to failure. Supply Chain Analytics changes the game to make success far more likely and when you take the analytics plunge, you will remember where you where!
Image courtesy of Concentra at Concentra.co.uk