May Day falling on a Tuesday meant a rare 4 day "weekend" break was enjoyed and the sun shone, in Romania at least. Time to dust off the BBQ for the first time this year and chill in the late April heat. We had some Romanian bred ostrich meat to grill – yes, honestly and what's more the Romanian word for Ostrich is the perfectly apt Strut!
Everything was rather last-minute, but the salad was done, bread buns cut and buttered, potatoes wrapped in foil were ready and the Prosecco had already popped. Man dons apron with a life size image of a girl in a bikini plus a Knorr chef hat and we are ready to roll.
Well, we would be ready to roll if we had any charcoal!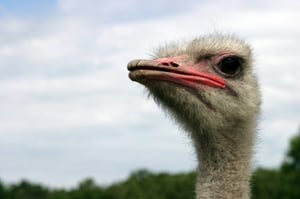 I guess I could have popped out to the garage to pick a bag up but it ruins the flow of things and anyway I was Prosecco'd up. To a background of female tutting we resorted to another process and turned the gas on in the kitchen.
I only had 6 items to plan but goofed with one of the most important but the absence of any would have scuppered the day. Our last-minute change of plan was not dramatic but we used expensive gas rather than charcoal. This minor domestic challenge shows how unexpected shortages can impact on otherwise smooth processes.
Putting the strut steaks aside let us look at a case study where materials more critical than charcoal were causing problems and how Supply Chain Analytics played their part.
The Challenge
Despite having relatively predictable demand and high stock levels, an FMCG manufacturer still suffered stock-outs of different RM/PM and had to change production plans and schedules constantly to try and maintain service levels. As a result, operating costs were unnecessarily high, and the day-to-day running of the supply chain was absorbing a disproportionate amount of management time due to fire-fighting. Staff morale was dipping – much like mine on Sunday afternoon!
The Solution
SupplyVue took a detailed analytical look at the production sequence using the line changeover matrix and demand plan. This work sought to create the lowest cost manufacturing sequence and a set of "Golden Rules" to maximise efficiency. Using this optimum sequence, SupplyVue used production wheel methodology to create a rolling 16-week production plan. Scenarios were generated showing the trade-offs between manufacturing cost, manning and inventory levels, and between levelling capacity and inventory. In doing this, the management team was able to decide on the production policies that most aligned to their business objectives and specifically, Customer Service.
The Impact
1. A 15% reduction in changeover time through an optimised production wheel approach.
2. Levelled demand to prevent overtime and disrupting shift patterns.
3. Inventory levels plummeted through reduced cycle times and increased conformance to plan.
Supply Chain Analytics would not have saved my BBQ or my ear from a bashing, but you need something with high powered deep data diving capability to understand what is really going on in your supply chain.
Image courtesy of Peter Orseved at freedigitalphotos.net