I am going to continue with some sporting analogies, as I did in my last blog, Route to Market Roles and Avoiding Square Pegs in Round Holes. There are many common areas across many sports, but there is at least one specific area of sport that unites all sports from around the globe, and that is training and preparation. The best professional athletes train their hearts out all week, all month, all season, in the hope of getting picked for the team, and getting the opportunity to play, and of course to win.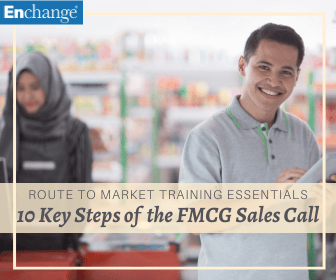 In business, we often talk about the links to sport. From sporting metaphors to successful sporting figures being sought after in the business world for their work ethic and for their prestige. So, if the FMCG frontline sales and RtM reps are the equivalent of the sports people on the field, how often do we as FMCG managers and leaders train and prepare our sales reps?
I really would encourage any FMCG managers reading this to answer that question. Too often I am told by clients that their salespeople are very experienced, and do not need to revisit any such 'basics' like sales training. Tom Brady won his sixth super bowl at the age of 41. As far as I am aware, at no point did he tell his coach, Bill Belichick, 'I'm OK Bill, I'm Tom Brady, I don't need to train'.
Sales training is also an excellent way to see some Route to Market improvements quite quickly. Creating and running some sales training for the frontline field force does not have to be a mammoth task. It does not have to be a massive programme, it does not need lots of resource to run it, and it does not require weeks of preparation.
It could simply be a one-day virtual or face to face training session, run by one of your experienced RtM team members (maybe a top performer?), and it would require only a few days preparation. Some workshopping, role playing, group discussions, and team thinking, could make all the difference to 2021 numbers. The subject matter could be the following:
The 10 Key Steps of the FMCG Sales Call
This is a quick methodology that a RtM or sales force representative can use before, during and after a physical or even virtual sales call to maximise every sales opportunity. These are generic steps that you will customise. You may prefer 8 steps or 12. That is less important than the fact that your sales and RtM people should be planning for success, not just doing a job.
Regardless of whether you have the most advanced CRM, or Sales Force Automation tool, or if you are still using paper to record the sales call, the principals are the same.
Here is a sample of 10 Key Steps of the sales rep call:
Plan & Prepare for the Call

Open the Call

Store Check

Make Collections
Sales Presentation
Implementation & Closing
Records & Reports

Stop & Think

End & Evaluate

Next Steps
If you would like some more detail on the 10 Key Steps of the Sales Representatives Call you can download our guide. I hope this provides some guidance.
What should you do now?