Through product rationalization, regain control of your product portfolio and become more profitable & competitive.
Do you really need SKU rationalisation now?
Do you think that substantial portion of your products do not contribute enough to your margin and revenue?
Do you experience sourcing complexities, planning and production inefficiencies & shortages, distribution difficulties, and long lead times from order to delivery?
Does your company have to carry too much inventory in terms of finished products, raw materials, and packaging materials?
If your answer is YES to any of the questions above, then you need to re-evaluate your product portfolio in order eliminate complexities from your operations, and to re-gain the control of your supply chain to become more profitable and competitive.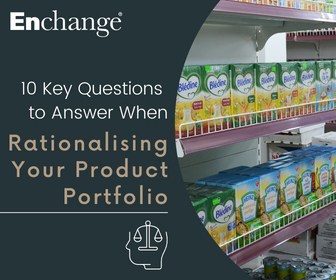 10 key questions you need to ask when ratinalising your product portfolio.
Following questions need to be answered in collaboration with supply chain, Sales & marketing, and Finance
How should I categorise my products/SKUs?
What should be the thresholds for revenue and margin contributions (of each SKU)?
Which products & product groups are important for my customers?
What is my channel/customer categorization and profitability?
How do my customers rate competition product portfolio?
Should we have a differentiated product portfolio based on channels/region/country?
What is the lifecycle of each product/SKU in my portfolio?
What are the complexities created in terms of product, process, and organisation because of each SKU?
What are product improvement initiatives?
How do we implement the final decision do we have a clear process?(Eliminate/ Watch/ Maintain)?
You need a structured, well-established approach when you rationalize your product portfolio to become more profitable & competitive – Below there is a high-level view of this 3-phased approach.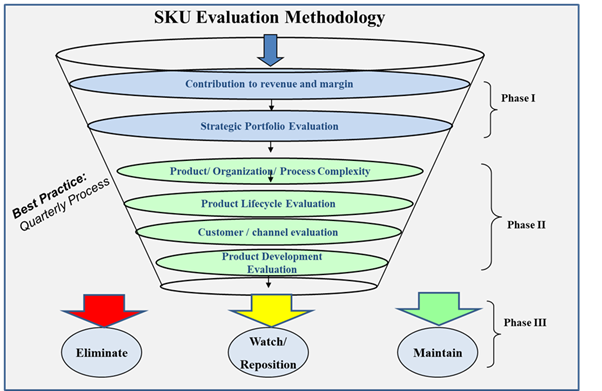 What will you achieve after SKU ratinalisation?
Profit margin improvement: Elimination of many SKUs that are not contributing to revenue & profit, and that are not strategically important for the organization will drive profit margin improvement.
Cost reduction by streamlining the operations: Managing SKU diversity effectively, will streamline your end to end supply chain operations from sourcing to distribution. Total inventory holding will also be lowered.
Top line growth - Aligned product portfolio with customer needs: Retaining and focusing on those products/SKUs that buyers want more, will drive business growth.
Next Steps
Do not waste time, start re-evaluating your product portfolio to stay competitive and profitable.
If you need our assistance, give us a call. use any of our contact routes including Live Chat,
The Enchange Supply Chain House can assist your journey to supply chain excellence.
Read more articles on Supply Chain Excellence and Route to Market on our website where you can also subscribe to our frequent updates.