I recently peeped outside of the FMCG and Pharmaceutical world and took a look at the amount of empty beds in the National Health Service in UK and how a little alternative thinking plus basic demand and supply planning expertise could improve bed utilisation. Today it is the turn of the Royal Mail and all those "black and white cat" postie types to be in line for my critique.

Before you say that the Royal Mail is not a proper supply chain, it is a supply chain and a very complicated one at that. Apart from the reducing but still significant Christmas card peak, this is a business that cannot really forecast how many letters and parcels will be dropped into Post Offices and Post Boxes for delivery on a daily basis. Or perhaps they can or should? Is it any different from the daunting, daily, dynamic demand volatility experienced in Tesco, Asda and Aldi etc.?

Anyway, that is not the issue on this occasion but it is about the Royal Mail redirection service which should be a very straightforward formality. You move to a new address and pay the Royal Mail to keep an eye on your letters and parcels and forward them to your new abode. This is not as simple as it sounds as finding that gas bill in a plain brown envelope must be very close to searching for a needle in a haystack. Nevertheless, they have been doing this for ages and in large numbers so should be very proficient.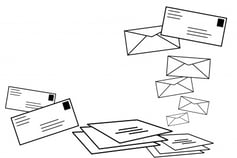 Not this time. They got it horribly wrong from day one and continued to do so as even "signed for" mail which must be capable of automatic sorting was sent to the old address. Luckily we are still in the locality and in contact with the remaining Neanderthal student residents who in their few conscious periods send vowel-free texts letting us know Postman Pat has left something in the heiress's name. Before they have the chance to eat or smoke what has arrived we quickly pop down and rescue items that slipped through the redirect net. That net must have holes the size of Ronaldo's ego.
After repeated telephone calls and emails and the release of only a minor amount of my pent up frustration from afar, Postman Pat has refunded all costs and is now carrying out the service – very efficiently now, incidentally – free of charge. What a waste of time, energy and other resources!
I have no idea what the inside of a sorting office looks like or what processes and procedures are in place or their daily challenges but failure to carry out core advertised service is very disappointing. Delivering enveloped and packaged mail is what they do best; if they cannot get that right then what chance do they have with other value added services?
Walk into a pub on a scorching day (ok, so that is not going to be in UK) to be told sorry, no beer. Step into a supermarket to find no bread, milk, tea or cheese! Pull up at the McDonalds drive-in to be told no fries today - actually no bad thing!
You have to get the basics right or your credibility with existing and potential new clients is severely limited. Some organisations bend over backwards to gain new business and rightly so but why don't they bend further backwards to keep that business? In FMCG and Pharma I find business retention is far harder than finding it in the first place.
Image courtesy of Ohmega1982 at freedigitalphotos.net