I had an informal discussion with a small group of FMCG Supply Chain VP/Directors last week. I well remember the occasion as it was the day UK had its annual summer but the discussion was memorable for more than that fact. After rushing back to base in the inevitable evening rain with my briefcase as the only shelter I wrote out some notes from the session and they worried me.

Supply chains have moved on a long way from the early days when bits and pieces from other usually incongruous functions were glued together to form a nascent coherent function. I cannot list the huge number of initiatives that have taken place in the intervening years but some global supply chains are so slick that even sales people are almost impressed! Not all new ideas resulted in sustainable changes but some of the more obvious candidates like S&OP, corporate buying, ERP deployment and 3PLP partnerships have more than earned a return on the investment.

Unfortunately, you cannot stand still and supply chains everywhere are continuing to eke out incremental improvements in some of the more mature cases or substantial step changes in those less developed. Some companies clearly have plenty of scope for improvement but what about those who are at the top end of the Gartner Oscars list?

Is there anything left for Supply Chain VPs and Directors to achieve? Has all the cutting edge, innovative stuff happened? Are there really no more storming, monster initiatives coming over the hill? Is this as good as supply chain is going to get?

Talking of monsters, let me go back to the senior group discussion I mentioned at the top of the page. S&OP and its younger sibling Integrated Business Planning have stabilised virtually all of the major multinational supply chains. Bringing a degree of discipline across all functions and a smaller improvement in sales forecast credibility has helped companies squeeze positives in top and bottom line performance.

Heavy investment in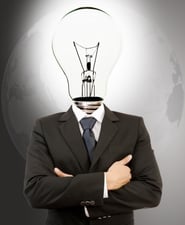 ERP upgrades have added a degree of financial rigour and reliability to businesses although the underlying thought is that even now, nobody really gets value for money from those slick and shiny IT packages.
I can imagine all these hungry supply chain executives searching for something that can make a lasting difference. You know what? They are standing there while it's raining soup but they've all got forks!
The one area which has been largely untouched by the various supply chain initiatives and IT tools is inventory. Boring, boring stock levels; the planning manager's crutch, the sales manager's obsession, the working capital bane of management finance managers lives.
You may argue your stock is under control. The level is the right number of weeks cover. The value is at or below the annual plan targets. Even the number of pallet spaces is on track at the 3PLP warehouse. All highly likely but are those stock levels really supporting the business or simply just propping it up?
Look carefully and I think you will find it is the latter. Inventory will not be aligned with precise market activation and selling out plans and is therefore stifling rather than facilitating growth. All the numbers may apparently support the business objectives but look closely and you are likely to find very little science in how forward stock cover is defined and specifically by SKU.
There is a solution. A sensible low cost solution that works and tellingly, it has been designed by supply chain experts for supply chain people!
Put your forks away and read about SupplyVue supply chain analytics. This works!
Image courtesy of Ohmega1982 at freedigitalphotos.net