After the viral trials and tribulations of 2020, is the market going to get any better any time soon? Many big-name companies predicted/reported indifferent Q4 results and all offer caution about the continuing "difficult market conditions". Ok, so 2020 may have been put to bed financially but many companies will be paying a heavy price for a hectic and extremely competitive last quarter.
Despite the restrictions presented by COVID 19, there appeared no let-up in above and below the line support for the plethora of seasonal brands. Producers may well have been scratching around for every penny of turnover but advertising and promotional agencies must be reasonably content. I wonder what a snap-shot of bottom line profitability looked like over the final 3 months of the year or even December alone.
If the economy is not much better than last year, what exactly can you do differently to keep ahead of your competitors in 2021? If you had all the time in the world you could consider a set of new FMCG Top 10 New Year Supply Chain Resolutions. You might not have the time, funds or human resources to tackle all of them but there are a few you can take advantage of for some quick wins. Give your Supply Chain and people a much needed motivational spring cleaning and see the difference this can make. Both need a boost and here are just 3 areas you can easily address.
1. Inventory. Most businesses will have carried out a stock count at year end. (You do count your stock don't you? If not then I guarantee you will have less good stock than you thought!) You should now have a list of those SKUs which are clearly overstocked, close to expiry, old label, damaged etc. Every day you maintain this stock is a waste as the associated costs slowly but surely chip away at your bottom line, making your life unnecessarily difficult and unprofitable. You are looking for big buck progress in the market while undermining yourself with largely avoidable internal losses.
Get rid of the excess stock now! Give it to charity and get a tax break on the donation, if that applies in your territory. However, you could sell it even if it generates only a tiny margin to cover fixed costs. If you cleanse your stocks leaving what actually moves quickly, you will naturally achieve a slightly more responsive, leaner and faster Supply Chain.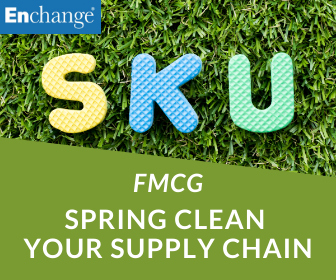 2. Portfolio. In difficult times we sometimes take equally difficult decisions which turn out to be less than ideal. That's life, but if you take decisive action now it can help your business. Do you know how many "must have" new and promotional SKUs you added in 2020 in order to get as close to HQ top-down targets as possible? Unfortunately, it is easy for processes and procedures and even common financial sense to be overlooked in the search of more sales.
Every SKU on the books costs you money even if it is difficult to quantify in the extended Supply Chain. Do all of the SKUs actually contribute healthily to profit? The answer is probably no! If you do not monitor profitability by SKU then a considerable proportion may be blocking resources for no real benefit. As described in a recent article on complexity, you need to be dispassionate about culling SKUs that do not perform.
If you do nothing else, a close look at your portfolio is relatively straightforward and certainly not resource intensive. Carrying out a simple SKU spring clean and getting your house in good order will help you focus your efforts on winning in the marketplace.
3. Process. The third area of spring cleaning focus could be your processes and the people that run your Supply Chain. Over 2020, whatever your sector or country, your company will have operated differently. As the lockdowns ease, it is highly unlikely and probably uncompetitive to return to the norms of 2019 and before. How you move your products to market and how they are purchased will never be the same again. Your can try and revert to 2019 ways of working but you will be in a minority, or bust!
Now is a very good time to map out your crisis ways of working and start to formally incorporate those elements which helped your business survive and can now be considered revised best practice. Are all the old processes still valid? Is your organisation chart the same or have some people gained tasks while others may have time on their hands?
Your 2021 will not be any easier than last year and competitors will be targeting that same small, tightly held purse of consumer spend. Even in difficult times of crisis someone always wins, why not you and starting with sensible stocking, a tighter portfolio and efficient processes?