Many SKUs sneak onto FMCG price lists when nobody is looking and this is far from facilitating constructive market development. Sales & Marketing colleagues prefer new launches to provide lengthy lists of SKUs; different fragrances, different sizes, different colours, different shapes, different claims etc. How many shelf facings do they want – as many as possible - and how many does the company really need?

How do these added complexity decisions get through S&OP meetings unopposed? (Assuming you do actually run a Sales & Operational Planning process......)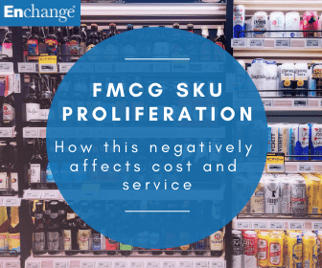 Do you know how this proliferation is affecting your customer service?
One thing for sure is that it is affecting service and cost negatively. Rather than delighting more and more consumers you are likely to be disappointing them and wasting countless valuable operational Euros/Pounds/Dollars at the same time.
Here, I take a look at just some of the negative effects.
Factory complexity. Time is money in factories as they try and make their assets sweat to get as much out of the gate as fast and as cheaply as possible. Each colour or flavour change, label or pack size adjustment, stops the production line and steals valuable time and money which cannot be recovered.
Storage. Each individual SKU requires a dedicated pallet or rack or bin location. The more SKUs you have, the more money you are paying for space – even if it is in-house. When you have 16+ colour variants of the same shampoo pack size you can understand why picking errors occur, stock data becomes inaccurate and ultimately leads to lower customer service levels.
Cost per SKU. Have you ever sat down and estimated how much it costs to have an SKU on your price list? Sales staff may be aware of and bemoan the rising listing fees but in reality the cost of an SKU is much, much more. Including, for example
Someone has to develop and design the product/pack/bottle case.
A colleague has to find suitable suppliers and possibly carry out trials. The trials may fail!
An employee has to buy the different label, dyestuff, cap, box, favour etc.
The new raw material/packaging has to be stored in a warehouse.
Someone has to call it off at the factory.
The factory has to make the SKU.
The finished product has to be stored in an in-house or third party warehouse.
People at the operating company have to supply and demand plan the SKU.
All of these activities and more, ensure that the cost of having an SKU on the books is significant. In a very rough calculation the cost of having 1 SKU on your books is estimated at 30,000 Euros in a medium sized global/regional business. (Not a scientific calculation but a best estimate to illustrate that introduction of new SKUs is not free of charge.)
With every new SKU you are asking virtually everyone in the team to expend working hours on SKUs which may not be profitable. Secondly, by taking focus off the critical core of the portfolio you are playing with fire as errors and delays will inevitably occur along the extended Supply Chain. So, what can you do?
SKU Rationalisation
Ok, so you are an FMCG CEO drowning under SKU complexity. Far too many organisations launch a new SKU and then fail to revisit the data assumptions on which it was grandly launched. Firstly, if a new SKU is not even planned to deliver at least 30,000 Euros profit per annum (or whatever your in-house rule of thumb threshold may be) then DO NOT LAUNCH IT! You must routinely review the delivery of new SKUs against forecasts and take the necessary action to keep your business as simple as possible.
For all SKUs on your price list you must carry out an SKU rationalisation exercise at least annually and preferably quarterly for seasonal businesses, to continually redefine your necessary complexity. SKUs that do not meet profit/volume/margin criteria should be placed on watch. If they remain below your cut off points then it is time to push through a delisting.
Of course, there will always be special cases such as SKUs that constitute a range or a niche regional product. As long as these are recognised exceptions then you have a chance of a fast flowing, efficient, cost effective Supply Chain and more importantly, delighted consumers.
Introducing an SKU is a cross- functional business decision or should be! When considering any new SKU introduction at your next Board or CEO S&OP meeting then the Supply Chain people should be asking some very testing questions.
I do not pretend controlling complexity is easy, it is not. If you need more expert advice on SKU complexity and how to define necessary complexity please reach out to us.