In my previous blog on the subject (
Integrated Supply Chain Planning – The Number 1 Opportunity
), I outlined how producers (manufacturers) can achieve very significant improvements in the financial performance of their supply chains by a process of integration between the primary and secondary supply chains.
The key is data exchange between the producer and their key distributors.
Given that global multinationals operate in a large number of markets and generally with a large number of distributors, the question of how to achieve focus becomes very important when considering global supply chain integration programmes of this type.
The opportunities from such integration are dependent on the particular characteristics of each market. These depend on the following:
Direct vs indirect distribution
Proportion of sales via Key Accounts vs Traditional Trade
Distributors characteristics in each market – their number, degree of exclusivity and competency, for example.
Now let's look at different market profiles. The integration opportunities can be summarised as follows: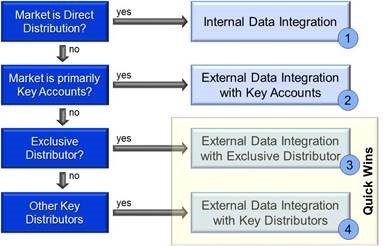 We can see from the above that there are four integration opportunities of which two are quick wins:
Where a market is serviced via direct distribution (i.e. the producer undertakes its own distribution), the long term solution is to establish internal direct data interfaces with key warehouses.
Where Key Accounts predominate (e.g. hypermarket chains in Western Europe), the long term solution is to establish direct EDI interfaces with Key Account customers.
With markets where there is an exclusive distributor there is scope for Quick Wins. This can be achieved by establishing a stock replenishment process at key distributor stock locations and ensuring that distributor stock data forms a key input to the sales forecasting process of the producer. The data exchange to enable this process could if needed be manual in the first instance (for the most important "Category A SKUs" for example). In the longer term EDI interfaces can be established.
In markets where there is no exclusive distributor, Quick Wins are still possible provided there is a relatively small number of significant distributor stock locations – i.e. where there is a small number of key distributors. Integration can be achieved via a similar process to that above in No 3.
For producers, analysing their markets in this fashion will identify where opportunities exist including for Quick Wins.
I would be interested to hear of readers experiences with this type of supply chain integration … as it is often not as easy as it seems …
… but not for the reasons you may think.
I will explore this in my next blog.
Image courtesy of Enchange Ltd