Enchange has been working with many FMCG and Pharmaceuticals multinationals for years on projects to improve their primary supply chains.
We have also been working with many of the same companies on Route to Market (RTM) projects.

For the sake of clarity, by "primary supply chain" we mean all processes (e.g. planning, sourcing, manufacturing, etc.) up to the point that finished goods are in the producers' warehouse before the stock is sold to customers. By "route to market", we mean the processes by which finished goods leave the warehouse and arrive on retailers' shelves, often via third party distributors. Some people also refer to the latter as the secondary supply chain.

One particular client is involved in a number of global projects updating its primary supply chain including implementation of a new SAP and APO platform.

A few months ago we set ourselves a challenge at Enchange. How, we wondered, could this client achieve a step change improvement in financial performance? Bear in mind that they were already involved in a very large global project to do just this.

So we held a workshop. Our conclusion? There remained a significant gap in their supply chain improvement plans. It was integration of the primary and secondary supply chains. Once stock was sold to their customers, there was limited interest as far as the producer supply chain was concerned.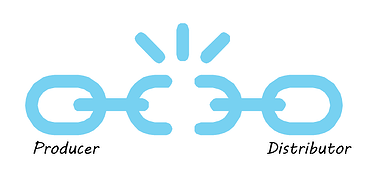 And therein lay the gap. Or rather the opportunity. If customer (e.g. distributor) data was formally integrated into the primary supply chain processes, there will be significant benefit for our client (the producer) and their distributors.

The key to this is data.

If there was greater and more reliable visibility of trade stock, the producer will be able to reduce its own finished goods stock. Sales and stock data can be exchanged with the producer by EDI interfacing with distributor systems or by use of 'virtual links' where key data is presented by the distributor and extracted into the producer's systems. With this data a VMI type of relationship can be established whereby the producer replenishes distributor stock, rather than waiting for an order from the distributor.

The benefits for the producer will be finished goods inventory reductions and a reduction in month-end sales peaking. Direct bottom line increases will also be possible following reductions in distributor discounts, the next time that contracts are negotiated. Additionally improved trade stock visibility will drive improved product launch and trade marketing effectiveness including with promotions.

For the distributors there will also be benefits. Stock can be also reduced and this will free up valuable cash and space.

So we presented these findings to our client. The response was very positive.

The next question that was asked. How can we focus our efforts with this approach? I will deal with this in my next blog.
Image courtesy of Enchange Ltd.