Like students cramming for examinations, a squirrel storing up acorns for dark, cold, winter hibernation or a politician telling all sorts of lies before an election, time is running out and that time is nigh for FMCG/Pharma CEO's. If your business closes the books at the end of December then you have less than three months left to make a difference before the year slams shut. Will your next job be Country Manager Falkland Islands or VP Europe?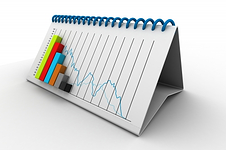 If all your competitors had the same book closing deadline then the task might be easier or at least the playing field may be level. However, depending on the home country of competitors they could be closing their book at a completely different time of the year and some are not even close to calendar year timings.
That adds a bit of spice doesn't it? You are searching for every last penny of sales and savings while your competitor with a registered office in South Africa is still sitting on a huge advertising support budget. Yes, at some stage in the future the financial advantage boot is on the other foot but now is the time you have to dictate the success (or failure) of the year.
On the 1st October you think you have three months to go but you probably don't! You might have Thanksgiving taking a few days out of your retail opportunity or Christmas which really queers the pitch at the end of the year. Christmas may well be a peak time for many FMCG brands but it is also a difficult time for producers as days and staff are lost to holidays and the weather in the northern hemisphere can dump a lot of snow on your logistical efforts to get stock delivered. In other parts of the world you have moving religious eid holidays placing pressure on the sales numbers.

Will you resist the temptation to sacrifice Q1 next year in order to reach current year targets? Even if you have a juicy new role in the pipeline decisions you make now will still impact executives even if they move on before the effect of any "trade loading" arises. Top team pay increasingly includes elements relating to the ongoing performance of the previous employing unit. So, if you invoice your entire warehouse contents to customers at 23.59 on 31 December and the company sells very little in Q1 you know you will be found out. Don't do it!
You cannot stop time – even Joan Collins has finally realised that – so get the top team together, make some choices, make some decisions, insist on alignment and openness and plan to activate the required sales off-take for the few remaining selling days available. (Psst, that's called Sales & Operational Planning (S&OP).)
Image courtesy of Renjith Krishnan at freedigitalphotos.net