During the summer months I am partial to a pint of the foaming ale with a solid, woody name like Woods Quaff served from a hand-pulled pump. Add a bag of pork scratchings and a village green cricket match and there you have what would approach the perfect afternoon. However, I live in Romania where there is actually more cricket than you might think and a lot less of the foaming ale. Yes, one or two of the big International Key Accounts have started to sell imported bottled beers from UK but to me it is not the same as watching a creamy froth develop on the top of a dark, mysterious brew drawn from a pump.
I guess it is part of growing up as real ale was not for me as a youngster and it was considered an old man-chunky sweater drink for bearded types, mostly blokes. Cider was the popular drink and then this developed into less fizzy lager where we had the never to be forgotten "Hofmeister – Follow The Bear" advertising. The people who made that advert up had obviously been enjoying far too much Hofmeister although it might just catch on in Romania.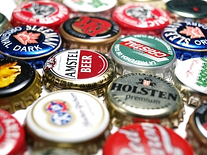 During the widely reported Easter UK trip to see the heiress the weather was far from warm but I looked forward to sampling a few beers. The first place of expectant imbibement was the Horseshoe Inn in Downend near our mortgage where I scanned a small range of ales amongst the fizz. Seeing a new name I ordered a pint only to be told the barrel had "gone" and they did not have any more.
Next stop on tour was Wirral to see my football team lose once more and catch up with family. One dining venue was the Old Quay in Parkgate which is a picturesque "seaside" promenade but with lapping water only twice per year. I think this is the place I saw Old Speckled Hen on draught for the first time and so eagerly ordered one. After a bout of foamy splitter-splatter the pump packed up and another out of stock was recorded.
Moving on to Birmingham next where the heiress is doing her best to minimise her inheritance and the same thing happened at a pub strangely named Country Girl in Selly Oak. Finally, even at the fast food end of the market in Frankie & Benny's my selection of a draft Boddingtons was met with another OOS response. My first and hopefully last "out of Boddies" experience.

In all cases I chose something else as a thirst has to be slaked even in chilly UK. Was I just unlucky or does this reflect a worrying level of forecast accuracy and/or customer service in the UK brewing industry Route To Market (RTM) deployment. The outlets did not lose out financially but ultimately the individual brewers did not receive my hard earned cash.
I know I am a sample of one but let's hope they get their act together for the arrival of the world's best drinks salesman, i.e. summer – if UK gets one!
Image courtesy of George Stojkovic at freedigitalphotos.com