As the snow ploughs, sledges and gloves are packed away for another year in the northern hemisphere we enter a key period in the FMCG industry. Beverage consumers are about to get thirsty or at least large numbers of drinks companies hope this is the case.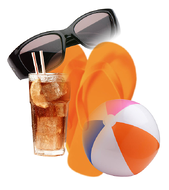 With a typical summer season there is only a limited amount of throat thirst to quench so who will win? The sun does not work to a timetable and can appear at any time so you need to be ready, flexible, well stocked, primed to act and serve. Of course, the world's greatest drinks salesman can also disappear behind an unexpected cloud and leave you and/or the distributor with a bit of an excess stock problem.
The problems you face include not having your product available when the thirsty masses invade the watering holes. When someone with a red face and a red chest (except where his string style T-shirt was) steps off the beach and pops in for a drink and your product is not available he is unlikely to say "Oh, what a shame. Never mind I'll wait until my drinky choice arrives" as he stumbles off back to the sun lounger. Red Man simply opens another cooler and takes a competitor and pours it down his throat. Sale well and truly lost forever and ever!
What must be really galling is that Red Man was probably enticed into the outlet by your bold and bright advertising livery above the door. A double waste!
The above example clearly relates to beer, soft drinks/colas and water but the principle applies equally to wine and spirits. No product on the shelf; no sale. Product offered on the restaurant wine/drinks list but not available; no sale and mutual loss of credibility and trust. Perhaps not Red Man this time, but a more discerning and probably premium segment consumer is disappointed.
If the majority of your business relies on Traditional Trade (TT) sales serviced by distributors then now would be a good time to review your Route To Market. Failure to do so might see Red Man and Discerning Consumer drinking anyone's liquid but yours.