"After eating what he thought was a beef burger at a Shergar King outlet my friend was taken to a private hospital where he is now in a stable condition. While he has recovered well he has been saddled with an expensive invoice for medical services. After overcoming this financial hurdle he has the bit between his teeth in taking legal action. Somebody is for the high jump for all this horsing around."
Possibly the best beef-horse pun was the doctored box apparently containing "Spaghetti Bologneighs".
Anyway, joking aside this is a very serious issue. Experts tell us it is not a health issue but clearly something has gone awry in the extended Supply Chain. There is nothing wrong with eating horse meat it is just that some countries like UK do not eat anything that could be described as a pet.
You see a few pet sheep now and again but rarely do even the animal loving British consider cows as pets. Cows were never any good at chasing sticks anyway. Don't expect to see Goldfish Fingers, Mice Pudding or Hamster Thermidor on Jamie Oliver's show just yet.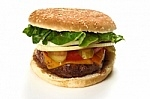 In the olden days – whenever they were – a statistical quantity of inbound raw materials were analysed to ensure they conformed to the specification and were suitable for use in production. Any defects were re-sampled and continued failure usually saw them shipped off back to the supplier or for supplier funded destruction. Procurement colleagues would of course try and get manufacturing to take the material anyway as they had negotiated a discount. That really irritated me when I was running factories as it is foolish to ever take the pressure off suppliers in terms of quality.
QC then progressed to Quality Assurance or QA. Supplier facilities and service were certified over a lengthy monitoring period to ensure inbound materials were meeting required standards. Finished goods were then statistically analysed to ensure the final make up of the product was accurate and suitable for sale. Most of this QA was positive analysis, i.e. checking for what is meant to be present rather than what is not.
Some products do require "negative reassurance" that a material is absent, e.g. alcohol level in non- alcoholic beer or caffeine in caffeine-free drinks but obviously testing for Mr. Ed in beef burgers is not common. I know very little about burger quality checks but I guess after asseessing, weight, size, colour, consistency, fat/water content and protein/meat content you know about your burger, or do you?
Once your testing regime is established, well-known and consistent you leave yourself open to unscrupulous practice. If suppliers know what you do not test for then some may tailor their raw material quality – downwards of course - so you do not notice any difference in your testing regime. Perhaps in the horse/beef case a bit of extra or periodical ad hoc QC would have highlighted the contamination sooner.
If a supplier has not suffered a consignment rejection for some time you might consider looking for what should not be there rather than what is there. Don't be blinkered on quality.
Image courtesy of Suat Eman
FreeDigitalPhotos.net