There is never a good time to go on a residential training course or put the car in for an overdue lengthy service or the annual visit to the in-laws or even English homework - why was the American cowboy series High Chaparral so much more compelling – well it was for me anyway!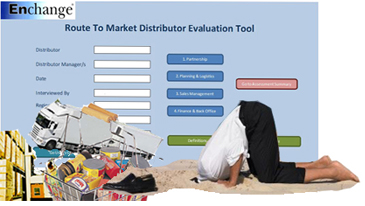 Instead, we all have "stuff to do" which seems vitally important at the decision making time but is usually irrelevant activity sub-consciously designed to put off "stuff" that really matters. You know what is really important and vital but you always seem to find something else to sort out before tackling that huge elephant in the room.
The largest elephant in the room in FMCG businesses with sizeable Traditional Trade (TT) businesses tends to be their Route To Market (RTM) Distributor network. While senior management teams grapple with indifferent sales in these difficult times they know that they could get more out of TT. TT outlets tend to be more accessible to those without cars or do not have the money to buy petrol to drive to the big cities. They still need to eat and drink though!
Perhaps companies do not realise that virtually everyone in the real world is trying to save every single penny. By "the real world" I mean those who are not living on monstrous fortunes generated from "looking good", kicking a ball or being the talentless off-spring of an aging pop celebrity. Nor am I talking about those millionaire politicians who occupy a parallel universe of comfort and wealth while the majority struggles along.
Oh, ok back to the point! You know you could generate extra sales and profit from TT but you do not bite the bullet and do something. The excuses cover the whole calendar year:
Oh no, not in the first quarter of the year when we are trying to overcome the year-end loading that made last year's targets.
Oh no, not when we are in the peak of spring cleaning in CEE.
Easter? No, forget it.
What about summer? Well, not for drinks and ice cream businesses as this is the peak season – if the World's Greatest Salesman appears.
Ok then what about Q4? No, of course, you will be busy loading the trade again.
And so the year starts again……….
Ok, it is never convenient but unless you step in and take a look at how you sell product in TT you are missing an elephant sized opportunity. If you really cannot assess and review your whole network then do it in bite-size chunks and maybe you can cover your network in a relatively short period rather like a cyclic stock count.
Distributors will value the attention you give them and a forum to raise problems and opportunities. Treat that TT elephant well because they never forget…….