There is enough disruption and discontinuity in supply chains without the necessary evil or pleasure of new product development (NPD) and product change getting in the way.
Just when everyone has become used to ordering, storing, picking, delivering or merchandising that pretty blue bottle with the picture of a carrot on the adhesive label, someone decides it is a good idea to relaunch the brand/SKU or replace the label with a shiny shrink-wrap label featuring a spud. The vegetables of choice are irrelevant as I just did not want to highlight any particular sector but no doubt the farmers will be up in muddy arms.
If your business operates a classic innovation funnel then well done to you. However, if you do not run one at all or you do and it is not linked to S&OP then you run the risk of:
Out of Stock (OOS) and real lost sales
Poor Customer Service.
Overstocked inventory
Write off and destruction costs
Losing your job.......
The funnel is not rocket science although the people at the Brand Gym reckon an "innovation rocket" is far more effective for growth. The funnel can be depicted in many ways but all are very simple, e.g.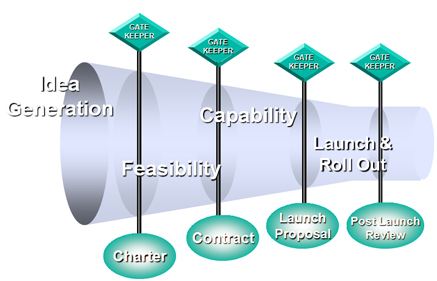 At each decision gate the relevant NPD leader must feed information into the S&OP process to avoid the 5 pitfalls listed above. Existing stocks can be run down in a controlled manner and new stocks ramped up to ensure continuity and more importantly, correspond to any breaking TV or other advertising campaign. Is there a bigger waste of marketing budget than appearing on TV when the product is not yet ready for consumers to buy?
Inevitably there may be write off when you relaunch or make a product change but as long as you co-ordinate within your S&OP process these amounts can be minimal and manageable. What the CEO does not want is an unexpected cash loss from write off appearing in the results unexpectedly. Marketing might well claim a successful launch but the profitability could be shot to bits and actually be negative once obsolescence costs are allocated.
Depending on your accounting convention the cost of write off will end up in "supply support" or "supply chain others" when in fact the funds should be deducted from the fat marketing budget. If marketing people do not manage the innovation or change process closely then they should feel some of the pain. Far too often they crack open the celebratory bubbly while causing problems in other departments and for the company in general.
Change is inevitable and supply chains have to continually manage change as it will not and should not go away. However, wouldn't it be a refreshing change if marketing fully bought into S&OP?