You may recall I took a light-hearted look at the complexity of overpaid Premier League footballers and how they might be treated if they were skus in a business. There is a cost to having an sku on your books whether this is soup, a shampoo or a sulky soccer player. Using this simple quadrant approach I provided my views on who should be delisted and who needed to improve.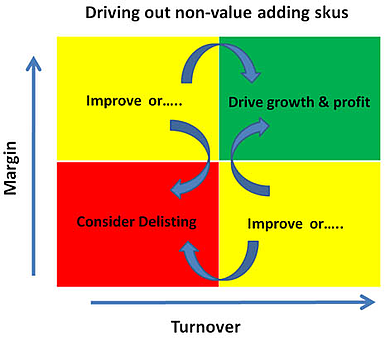 Now that the latest transfer window has closed, the shuffling stops and the agents return to their damp and dark holes for the rest of the season I take a look at the current status – if you do not measure, you cannot improve.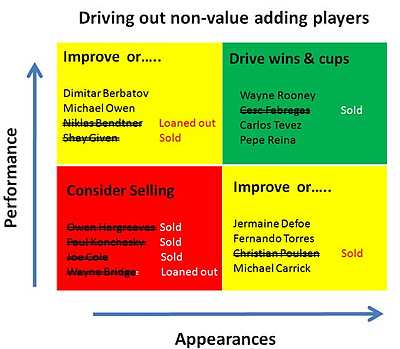 Not too bad! Clearly, some top premiership managers have been visiting the Enchange blog and taking good note. Well done Sir Alex, Mr Dalglish and the other one with the scarf!
Despite being in the top right box Cesc Fabregas has been sold by Arsenal and that may be the prime reason why the trophy cabinet will remain empty at the Emirates this year. Not sure what to say about Tevez as he is on some sort of gardening leave. However, Manchester City has boughtat Harrods and they do not seem to miss him but you cannot help thinking, what if……?
Torres remains firmly in the bottom right box as to date he has only scored 4 goals all season. Yes, his overall play may be ok but he was bought at great expense to put the ball in the back of the net, oh, and not get sent off!
In summary, this quote from the previous blog is still valid and worthy of repetition: "Those players and skus that deliver value for invested capital are the ones that prolong their stays at the top teams. However, sooner or later every single player will outlive his usefulness, move on and be replaced by something new and more successful."
This is as true for footballers as it is for skus in the FMCG, brewing and pharma businesses. A certain level of complexity is inevitable but too much can drag down sales and customer service.