I came across an interesting problem on FMCG planning this week. The company in question was a blue- chip multi-national with well developed supply chain and business processes, e.g. a suite of relevant and stretching KPIs in place plus a living Sales & Operational Planning (S&OP) process. Marketing had even chipped in with an innovation and promotional plan for the following 12 months.
Sales had been dragged kicking and screaming to the S&OP table and had started to forecast sensibly, i.e. not just by brand or by geography but by sku and by customer/channel. If you provide a detailed forecast with sufficient horizon but stock is not available then SC Planning has to improve. Or does it?
Still, the familiar calls of a sales team complaining about "not delivered" and "lost IKA sales" were reverberating around the office. A perplexed SC team studied the KPIs, checked the ERP and discovered that for some major lines the sales were well over forecast. In most organisations a band of +/- 20% is typical but when the bias is consistently above forecast there is a problem to be solved. SC was aware of all the promotional activity and there were no new launches in the period yet key skus were running out of stock.
Open on the desk was a copy of the in-house promotional magazine for the IKA retailer. Flicking through revealed the likely reason for the bias and "lost sales". The sales department and the retailer itself were organizing promotions and selling activity which was not on the SC radar yet drew from the same planned stocks. Attractive promotions and bulk buying offers on major skus inevitably led to shortages.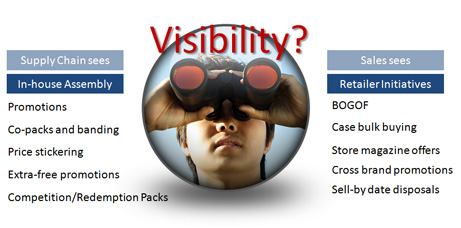 Conversely, some in-store activity, e.g. promoting out stocks close to their sell-by date meant other skus were sold well below forecast which posed problems within the logistics network.
Do not take the "lost sales" complaint as the final word. From time to time check out the retailer magazines and see what is happening behind your back!