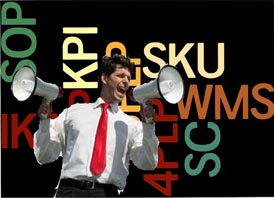 If you are honest you have probably sat bored in an airport lounge waiting for your inevitably delayed flight and listened in on a conversation. If the discussion topic is not one you are familiar with it can be as if you are listening to speech in a foreign language. Different businesses and functions within business use a variety of words and phrases to describe what they actually do and not all are obvious to outsiders.
I take a look at supply-chain speak here. Within the supply chain community we all know what is meant by the myriad of KPIs, disciplines, skills, terms etc but what do non-supply chain people hear?
Supply Chain – This is what DIY and hardware stores do.
Buying Contracts – The amount of shopping reduces.
Call-off - Cancel or postpone a sports fixture or other event.
Line Efficiency - How quickly the queue moves.
Changeover Time – How long it takes to select another TV channel.
Forecast – What weather presenters try and do.
Forecast Accuracy – How good the presenters are.
Forecast Bias – Regularly preferring one forecaster over another.
Case-fill – Done before leaving on a vacation.
Case Packer – The person who fills the above cases.
Shrink-wrap – A physiatrists' coat.
Customer Service Levels – How many floors there are in the shopping mall.
Out of stock – No bouillon cubes in the kitchen.
Out of stocks – Released from mediaeval public humiliation.
Order Fulfillment – Telephone request for home delivered food.
Pallet – A flat wooden holder for artists paint.
Pallet Space – How much free space is left for more paint.
Pallet Utilisation – How often you use this for painting.
Spreadsheet – Used to protect carpets when painting.
Ok, that is enough. Thanks for reading this far but you probably should go and do some work now.